I've got one thing on my mind: small hot dogs. Not isolated, of course, but tucked into salty carbs. Pigs 'n blankets, or sausage rolls if you please, deserve to be in the starting lineup that is your snack table, but how you tuck them into bread is entirely up to you. Thankfully, there is simply no wrong way to do it. Whether you enjoy a classic, individually wrapped mini weenie, or go for a handheld chili dog bucket, we've got nine creative ways for you to swaddle your piggies.
Corn dog casserole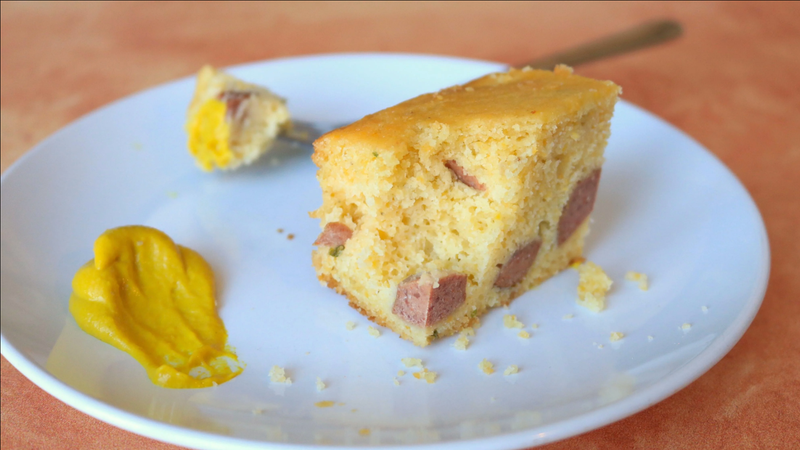 Photo: Allie Chanthorn Reinmann
The sweet and salty combination of a corn dog is aggressively tantalizing to my tastebuds. I could probably crush four of them if it wouldn't lead to my organs shutting down. If you've ever longed for a shareable, sliceable corn dog, you're in luck: You can make a corn dog casserole. Make a batch or two of cornbread per the recipe directions; homemade and boxed mixes both work wonderfully. Cut four to eight hot dogs into half-inch rounds, and fold them into the batter before baking as usual in a casserole dish.
Lit'l smokies chili cheese buckets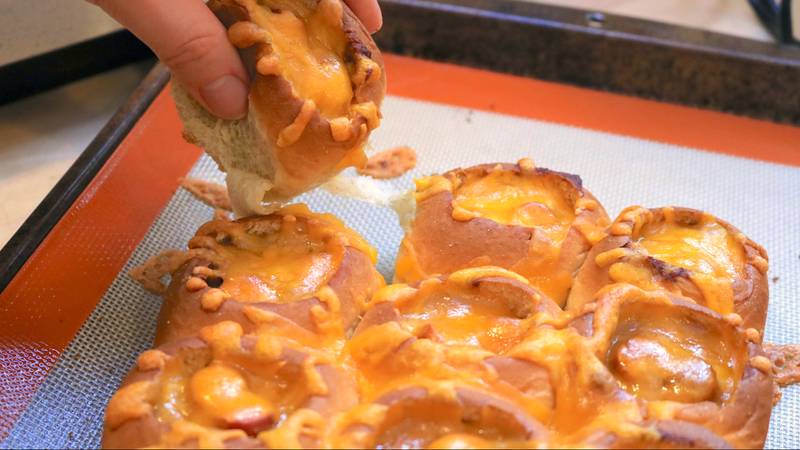 Photo: Allie Chanthorn Reinmann
Full-sized chili dogs can be a bit of a mess, but these handheld lit'l smokies chili buckets are much more manageable. I use King's Hawaiian buns so my guests can pull them apart, which is fun. Cut the centers out and fill them with chili, cheese, and cocktail sausages. Bake them just long enough to heat up the components and melt the cheese. The soft, slightly sweet bread combined with salty processed meat provides the ideal chili dog-eating experience.
Scallion dog pain d'epi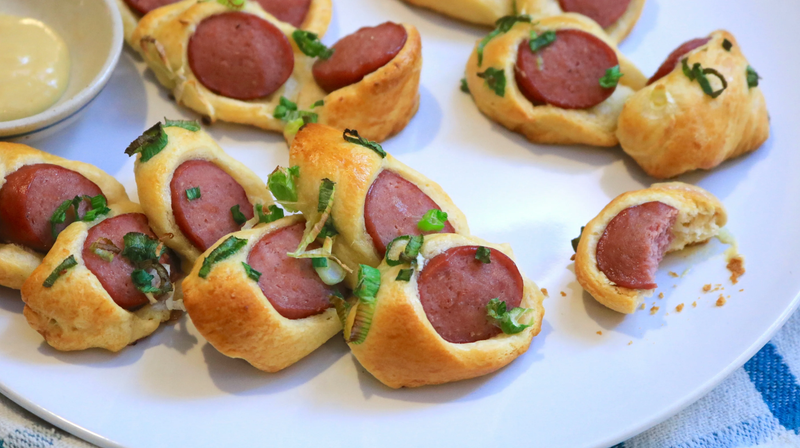 Photo: Allie Chanthorn Reinmann
The scallion dog pain d'epi is a fancy spin on a much loved classic. Wrap a full-sized hot dog in a sheet of crescent dough, and slice along the wrapped dog at a sharp angle. Cut through the dog, but not the bottom of the dough, and you'll be able to pull each slice over to the side in a staggered arrangement, so it resembles the classic French wheat stalk bread, pain d'epi. Brush with a light coating of egg wash and sprinkle chopped scallions on top. Bake and serve with your favorite dips.
Pretzel pigs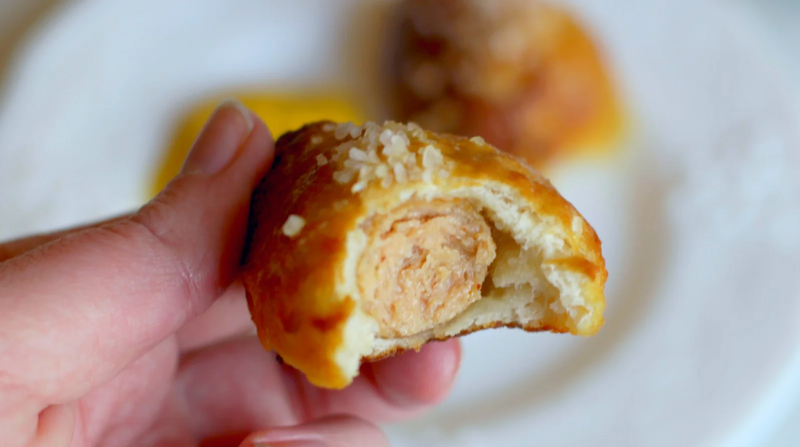 Photo: Claire Lower
Give store-bought pizza dough a quick bath in boiling baking soda water before you bake it to make deeply bronzed, semi-homemade pretzels. Tuck mini weenies into balls of pizza dough beforehand, and you'll be rewarded with home-made pretzel pigs. This mall-worthy preparation requires that you individually wrap each cocktail weenie, but after that you can boil up to 10 at a time, depending on the size of your weenie-boiling pot. Once boiled, sprinkle the dogs with coarse salt, and bake until well-browned. Serve with yellow mustard.
Pull-apart pigs with the easy-wrap method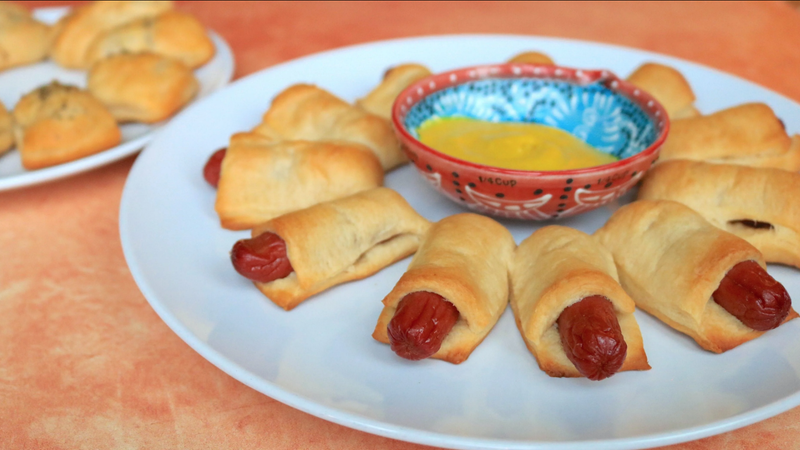 Photo: Allie Chanthorn Reinmann
My biggest complaint about making pigs 'n blankets is that the wrapping is tedious. This easy-wrap method allows you to make the classic wrapped mini frankfurter or a pull-apart version in a fraction of the time. Line up the dogs on a strip of dough, cover them, then slice them apart. Three steps, in a streamlined fashion, so you can get back to your spot on the couch.
Pigs in a duvet cover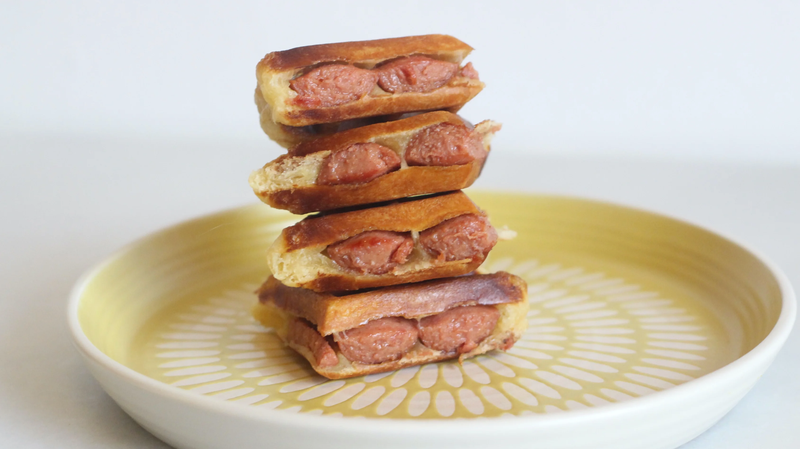 Photo: Claire Lower
Blankets are good, but don't you think your pigs would be warmer in a duvet? Tuck your piggies into store-bought crescent dough, and then? Waffle them of course. The dough will bake between the two hot plates of the waffle iron while quickly heating up the frankfurters nestled inside. Slice the waffle into quarters to share with a group, if you must, and serve with lots of sauces—the divots make dipping even easier.
Pigs in a bagel roll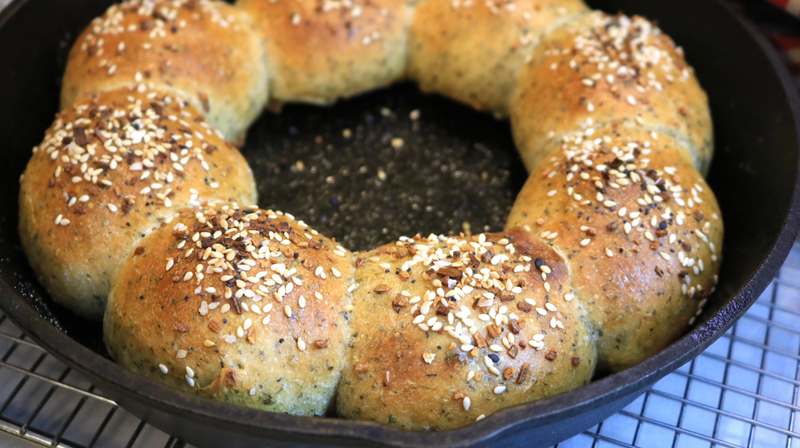 Photo: Allie Chanthorn Reinmann
One of the best hot dogs I've ever had was the Jon-Jon Deragon from Crif Dogs. It's since been renamed something more sterile, but the flavors are what make it shine. It's a salty, snappy hot dog, paired with tangy cream cheese, sharp scallions, and a coating of everything bagel seasoning (wrapped in bacon if you dare.) To make pigs in a bagel roll at home, mix room temperature cream cheese with bagel seasoning and chopped scallions, then grab a bag of pre-made pizza dough and cut off golf ball-sized pieces. Flatten them out and fill with mini weenies and a schmear of seasoned cream cheese, then seal and bake.
Mummy pigs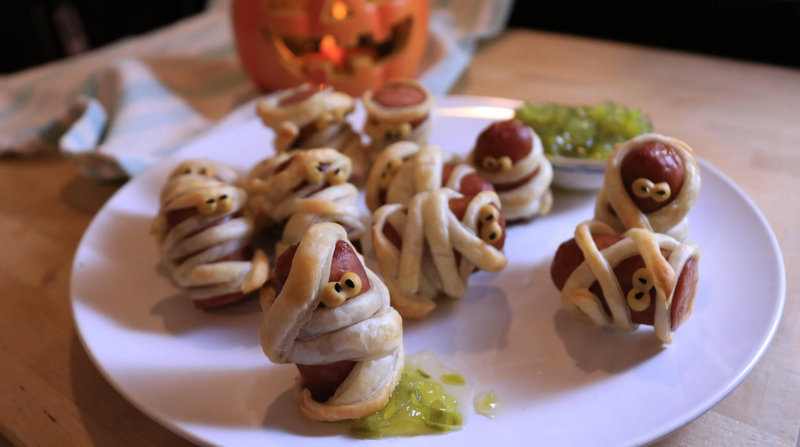 Photo: Allie Chanthorn Reinmann
I know it's not October, but mummies are a year long phenomenon, just ask Brendan Fraser. (It's my favorite movie, leave me be.) Have a bit of fun with your piggies and wrap full hot dogs in strands of crescent dough. Once they're wrapped, line them up on a parchment-lined baking sheet and slice them into bite-sized quarters or thirds. Bake, then give them little mustard eyes. Mummy pigs make great use of leftover pieces of crescent dough, frozen scraps of puff pastry, or any other pastry in your freezer.
Pigs in a puff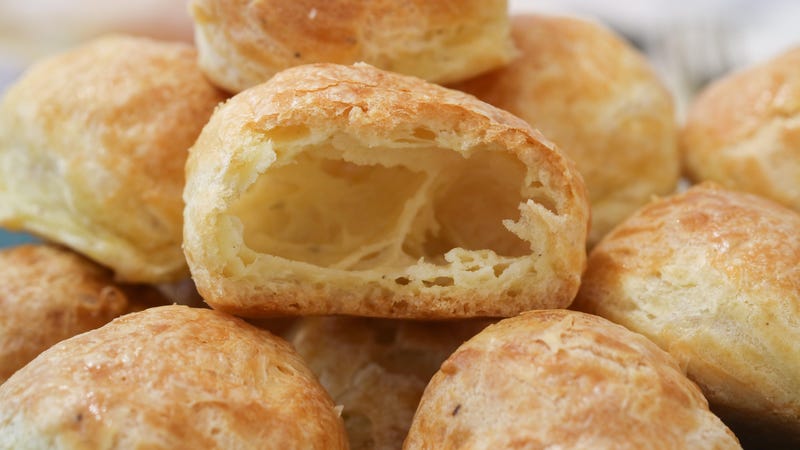 Photo: P-Kheawtasang (Shutterstock)
Choux puffs are versatile little pastry pockets ready to dazzle your tipsy guests with their countless snack applications, not the least of which is cradling tiny franks. The pastry bakes into an impressive balloon, and once cooled, you can crack them open and fill the pocket with dips and dogs. Have your friends do the work and serve a bowl of choux puff next to your pigs on the snack table, or if you're feeling generous, assemble the pigs in their puffs before guests arrive.
This article was written by Allie Chanthorn Reinmann from Lifehacker and was legally licensed through the Industry Dive Content Marketplace. Please direct all licensing questions to legal@industrydive.com.