With a batch of cooked quinoa stashed in the fridge, a million easy meals are at your fingertips. The protein and fiber-packed seed is incredibly versatile, making quick work of grain bowls, salads, and even breakfast porridge. Almost anywhere you'd use rice or oats, you can use quinoa, which has a nutty undertone but readily takes on the flavor of cooking liquids, spices and sauces.
Quinoa is relatively easy and cooks quickly on the stovetop (it's ready in less than 30 minutes). But when you've got multiple burners going for dinner or meal prep, or you find yourself really pressed for time, let the Instant Pot come to the rescue. Instant Pot quinoa uses slightly less water than the traditional stovetop method and goes from rinsing to fluffing in less than 20 minutes.
Do I need to rinse my quinoa?
Yes! Every good quinoa recipe calls for vigorously rinsing the seeds before cooking, which removes the protective coating called saponin that can make cooked quinoa taste bitter. This Instant Pot Method is no different and calls for a good rinse in a fine-mesh strainer before you get started.
This is true no matter what type of quinoa you're using. White, red, and black quinoa are the three types most commonly available, and all of them can be used in this recipe.
3 tips for perfect Instant Pot quinoa
1. Use cooking spray to prevent stuck-on quinoa. Before adding the quinoa, you'll want to coat the inside of your Instant Pot with cooking spray or oil. This prevents foam from clogging the Instant Pot's vent and makes cleanup easier.
2. Use less water. Our stovetop method for cooking quinoa calls for 1 3/4 cups water for every 1 cup quinoa. Since we're cooking this quinoa under pressure where there's no evaporation, use 1/4 cup less: 1 1/2 cups water for every 1 cup quinoa.
3. Cook the quinoa for just 1 minute, but use natural release for 10. Instant Pot quinoa requires just 1 minute of HIGH pressure. When the time is up, let the pot naturally release pressure for 10 minutes before fluffing and serving.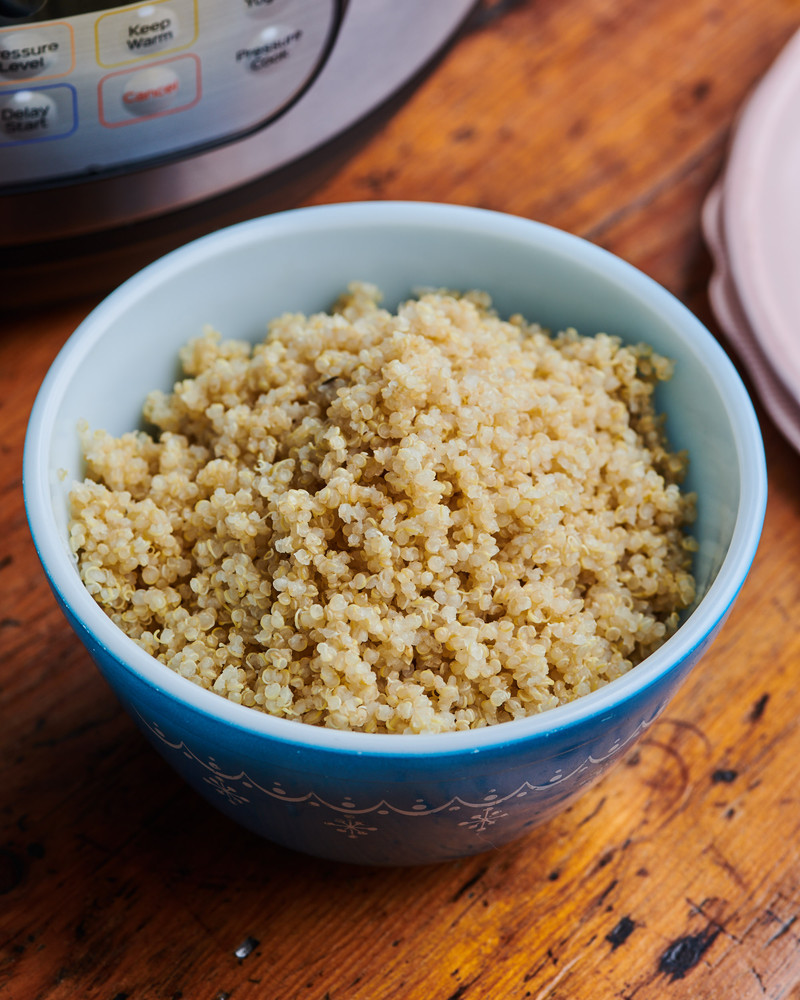 Instant Pot Quinoa
Serves 4 to 6; makes about 3 cups
Cooking spray or oil
1 cup quinoa, any color
1 1/2 cups water
1/2 teaspoon kosher salt
1. Coat a 6- to 8-quart Instant Pot or electric pressure cooker with cooking spray or vegetable oil.
2. Place 1 cup quinoa in a fine-mesh strainer. Rinse thoroughly under cool, running water until the water runs clear, rubbing and swishing the quinoa with your hand while rinsing. Drain, shaking to remove excess water.
3. Transfer the rinsed quinoa to the Instant Pot. Add 1 1/2 cups water and 1/2 teaspoon kosher salt. Stir to combine.
4. Lock the lid on and set the valve to seal. Set to cook under HIGH pressure for 1 minute. It will take about 5 to 7 minutes to come up to pressure.
5. When the cook time is up, let the pressure naturally release for 10 minutes. Quick release any remaining pressure.
6. Fluff the quinoa with a fork or spoon and serve.
Recipe notes: Cooked quinoa can be refrigerated in an airtight container for up to five days or frozen up to three months.
This article is written by Meghan Splawn, TheKitchn.com from The Kitchn and was legally licensed via the Tribune Content Agency through the NewsCred publisher network. Please direct all licensing questions to legal@newscred.com.