Coq au vin is a simple, rustic dish that translates to chicken with wine. Julia Child made this peasant dish famous on her cooking show and in her books. Some versions are made with white wine; others are marinated overnight with wine and vegetables and still other styles include sautéed winter vegetables.
A basic coq au vin is sautéed and then slowly simmered in wine, and bacon is added to bring a slightly smoky flavor to the rich wine sauce. There is usually a long list of ingredients in the recipe. But this Seriously Simple adaptation streamlines the preparation of the dish.
Originally developed to use up older, tougher chickens, the chicken was usually long braised in a wine sauce to become tender. Young chicken pieces are used now so there is no need to braise them for hours. I prefer air-chilled chicken for a better flavor. This simplified stovetop recipe is relatively quick to prepare and takes about less than an hour to cook. And best of all, it gives up nothing in flavor. You can use any variety of chicken parts totaling about 3.5 pounds. If you want extra, you can add two chicken breast halves or thighs.
This is the kind of dinner I yearn for on a chilly evening after a very long day. This coq au vin variation combines earthy dried mushrooms and crispy smoked bacon along with sweet caramelized onions to create a rich depth of flavor. Braised garlic cloves add a mellow garlic essence. I like to serve this right out of the pan for a rustic presentation. Steamed baby potatoes and roasted carrots make excellent accompaniments. Serve a sliced crusty baguette in a basket alongside to soak up any juices. I always make sure to serve the same style of wine used in the dish as my beverage.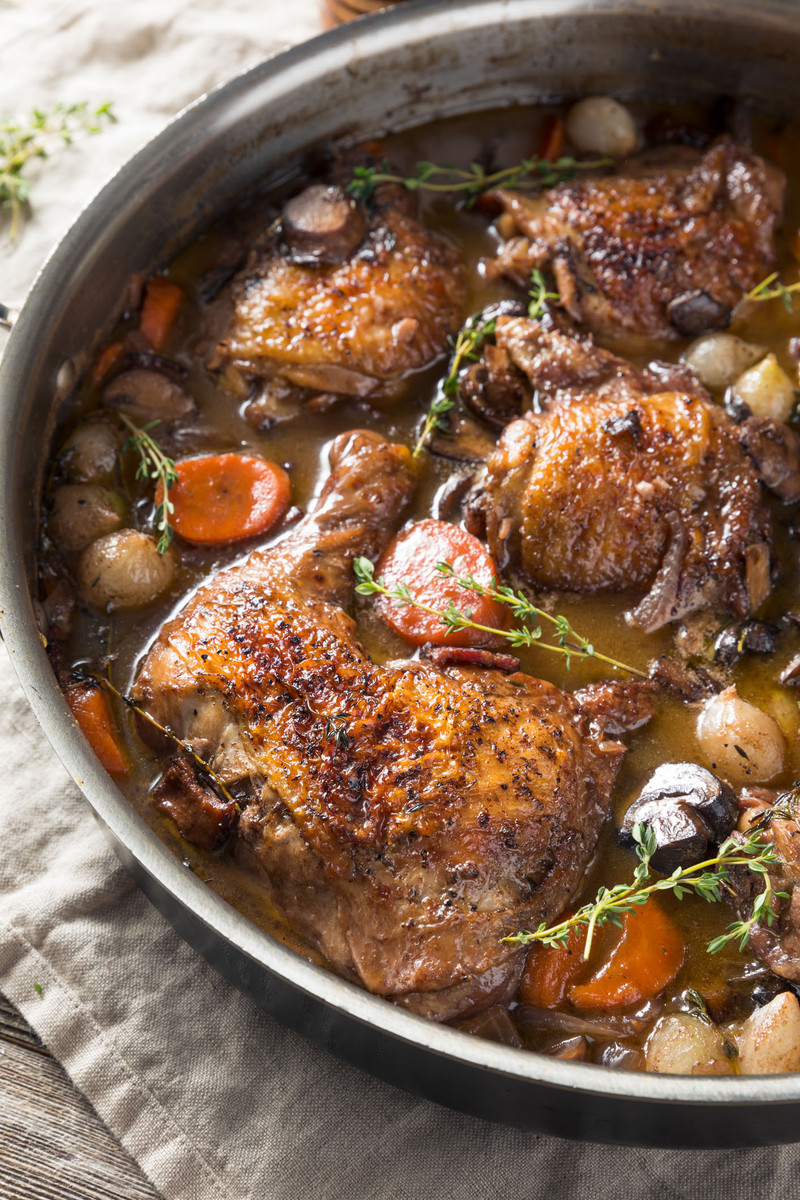 Braised Chicken with Caramelized Onions and Wild Mushrooms
Serves 4
1 ounce dried wild mushrooms
6 applewood bacon slices, about 4 ounces, cut into 1-inch pieces
1 (3.5-pound) chicken, cut into pieces
Salt
Freshly ground black pepper
2 very thinly sliced onions
2 carrots, peeled and sliced
1 cup full-bodied red wine like merlot, cabernet sauvignon or zinfandel
20 medium cloves garlic, ends removed
1 teaspoon tomato paste
1/4 teaspoon dried thyme leaves
2 tablespoons balsamic vinegar or 1 tablespoon balsamic syrup
2 tablespoons finely chopped Italian parsley
1. Place the mushrooms in a heat-proof bowl and pour boiling water over them to cover. Let soften for at least 30 minutes. Strain the liquid into a bowl and reserve 1 1/4 cups of the reserved liquid. Chop the mushrooms finely and reserve.
2. Place the bacon pieces in a large deep saute pan, large enough to fit the chicken on medium heat. Saute the bacon pieces, turning to evenly cook, for about 6 to 8 minutes or until very crisp and brown. Remove with a slotted spoon and drain on paper towels. Reserve.
3. Season the chicken with salt and pepper and brown the chicken in the bacon fat over medium-high heat, turning to evenly brown, about 3 to 4 minutes per side. You can do this in batches. Remove to a side bowl and reserve.
4. Pour off all but 3 tablespoons of the fat and add the onions to the pan. Cook the onions, covered, stirring occasionally, for about 8 minutes or until light brown. Add 1/2 cup red wine and deglaze the pan. Uncover and cook another 8 minutes, stirring occasionally, until the onions are caramelized.
5. Add the carrots and saute for 3 minutes or until nicely coated. Add the garlic, reserved strained mushroom liquid, remaining 1/2 cup of red wine, tomato paste, thyme, and salt and pepper to taste; bring to a boil on medium-high heat, scraping up the brown bits.
6. Decrease the heat to medium and add the reserved mushrooms and chicken. Turn the chicken to coat it completely and cook skin side up. Cover and braise on low heat, turning once, for about 25 to 30 minutes or until no pinkness remains in the chicken pieces. If the pan gets dry add a little more wine.
7. Remove the chicken pieces to a platter. Add the balsamic vinegar to the sauce and boil down for a minute. Add the reserved bacon and taste for seasoning. Return the chicken to the pan or pour the sauce over the chicken on the platter. Garnish with parsley and serve immediately.
Advance preparation: This may be made one day ahead, covered and refrigerated. Bring to room temperature and reheat in a 350 F oven for 20 minutes or until cooked through.
This article is written by Diane Rossen Worthington from Seriously Simple and was legally licensed via the Tribune Content Agency through the NewsCred publisher network. Please direct all licensing questions to legal@newscred.com.