When you're planning an opulent breakfast menu for New Year's celebrations, look no further than soft scrambled eggs. Topped with caviar or served alongside breakfast meats, your overnight guests will thank you for this delicious dish. Plus, once you have mastered the silky, creamy texture of soft scrambled eggs, you'll have a whole new repertoire of egg possibilities.
Add salmon caviar if you are on a budget; or go for the gold and top these dreamy eggs with Russian or American Osetra caviar for a festive first course. Serve them in porcelain egg cups or small dessert bowls for a beautiful presentation. Or add cheese, herbs or sauteed leeks or mushrooms for a memorable meal.
Soft scrambled eggs are simple to prepare but require an extra step to go from humdrum to dreamy. What is the secret? A fine meshed strainer and a bowl. After you whisk the eggs so they are airy and well-blended, you'll find that straining the eggs creates an unusually creamy and tender final result. Straining them removes the albumen (the white stringy part).
Another tip is to cook the eggs in a nonstick skillet on as low a heat as you can (or have time for) to develop a thick, custard-like consistency. Stirring them continually will also help. I like to use a wooden spoon or high heat plastic spatula to move the eggs around. These tools seem to work best. Remember that scrambled eggs will keep on cooking after you take them off the heat, so take them off a few seconds before you think they are ready and transfer them straight onto a serving plate.
For a large breakfast group, you can double or even triple this recipe. You will need to use a much larger and higher skillet, however. Bacon or ham and soft scrambled eggs make a great New Year's Day choice. You can add fontina, cheddar, Swiss, pepper jack or even goat cheese. Serve these elegant scrambled eggs with warm homemade muffins and mugs of coffee with steamed milk. A winter fruit salad with grapes, apples, pears and persimmons is also a perfect accompaniment.
How to serve
--As a first course, arrange equal portions of the eggs among four egg cups or small glass dessert bowls. Add a small dollop of creme fraiche on top of the eggs. Spoon some caviar of your choice on top of the creme. Finish with a small sprinkling of chopped chives
--As a main course, add about 1/4 cup shredded cheese or other fillings. Spoon onto a dinner plate, and garnish with chives.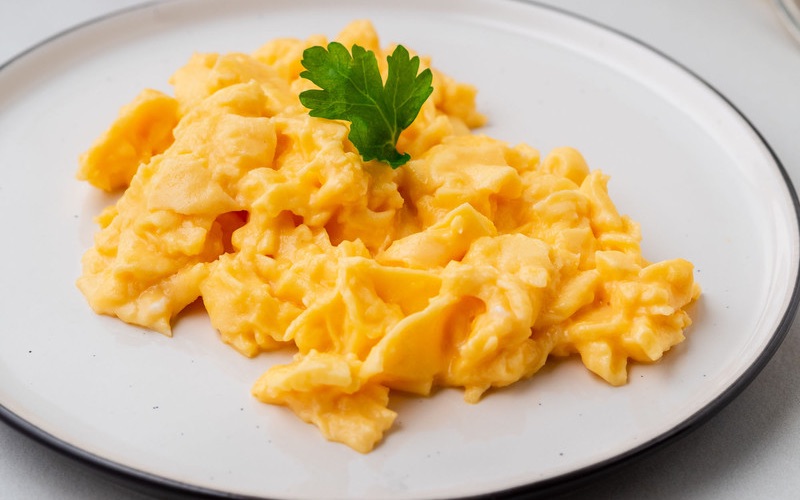 Soft Scrambled Eggs
Serves 2 to 3 for breakfast, 4 as an appetizer
8 large eggs
2 tablespoons milk
Salt
Freshly ground black pepper
1 tablespoon unsalted butter
1 tablespoon finely chopped chives, for garnish
1. In a medium bowl, whisk the eggs to combine. Put a fine strainer over another mixing bowl and strain the eggs, making sure that the albumen (the white stringy part) remains in the strainer. Add the milk, salt and pepper to the eggs, and stir to combine.
2. In a medium non-stick saucepan, melt the butter on medium heat. Add the eggs stir continually using a wooden spoon or high-heat plastic spatula. When the eggs begin to curd, keep stirring about 2 to 3 more minutes or until the eggs are creamy. Add the cheese or other fillings, if desired, and continue cooking until the eggs are still creamy but not dry, or until desired consistency is reached, about 2 to 3 more minutes.
3. Turn into a shallow small bowl, scoop portions onto individual dinner plates and garnish with chives. Serve immediately.
This article is written by Diane Rossen Worthington from Seriously Simple and was legally licensed via the Tribune Content Agency through the NewsCred publisher network. Please direct all licensing questions to legal@newscred.com.