Introducing McCormick's first ever Director of Taco Relations: Jo Luna! As a storyteller, content creator, and taco connoisseur, Jo has officially been chosen for the highly sought-after position of McCormick's resident consulting taco expert.
Jo's love of tacos is rooted in her Hispanic heritage and upbringing in the border town of El Paso, Texas; but has only grown as she's traveled around the world, sharing her culture and cuisine with her diverse set of friends and YouTube channel subscribers.
As the Director of Taco Relations, Jo will interact directly with lots of experts—from creative to our kitchens teams to develop new and delicious recipes while connecting with fellow taco connoisseurs to discuss the latest flavor trends.
"I can't express how excited I am for this opportunity to share my genuine love for tacos," she says. "To me, there is no better way to form a connection than by sharing a meal. I am going to show the world just how amazing my heritage is, one taco at a time."
Sign-Up for Email Updates from Jo!
A Taste of Tacos Across America
We polled over 1,000 taco lovers across the country to learn more about how Americans are eating their tacos! According to the results:
Americans love tacos! Approximately 90% of those polled professed a love for tacos, and this pattern holds true across ages, genders and regions of the country.
Midwesterners are heavy taco consumers – this region is slightly more likely than others to be eating 16-20 tacos per month.
One-quarter of Americans are eating "Breakfast Tacos" – those eating tacos for breakfast tend to be Male and living in the West.
"Taco Tuesday" is alive and well – most Americans (84%) make tacos at home at least once a month, and just over half (55%) of these tacos are made on Tuesdays.
Four out of ten consumers turn to their package of taco seasoning for their taco recipes, and half of consumers rely on packets of seasoning mix to season their taco meat.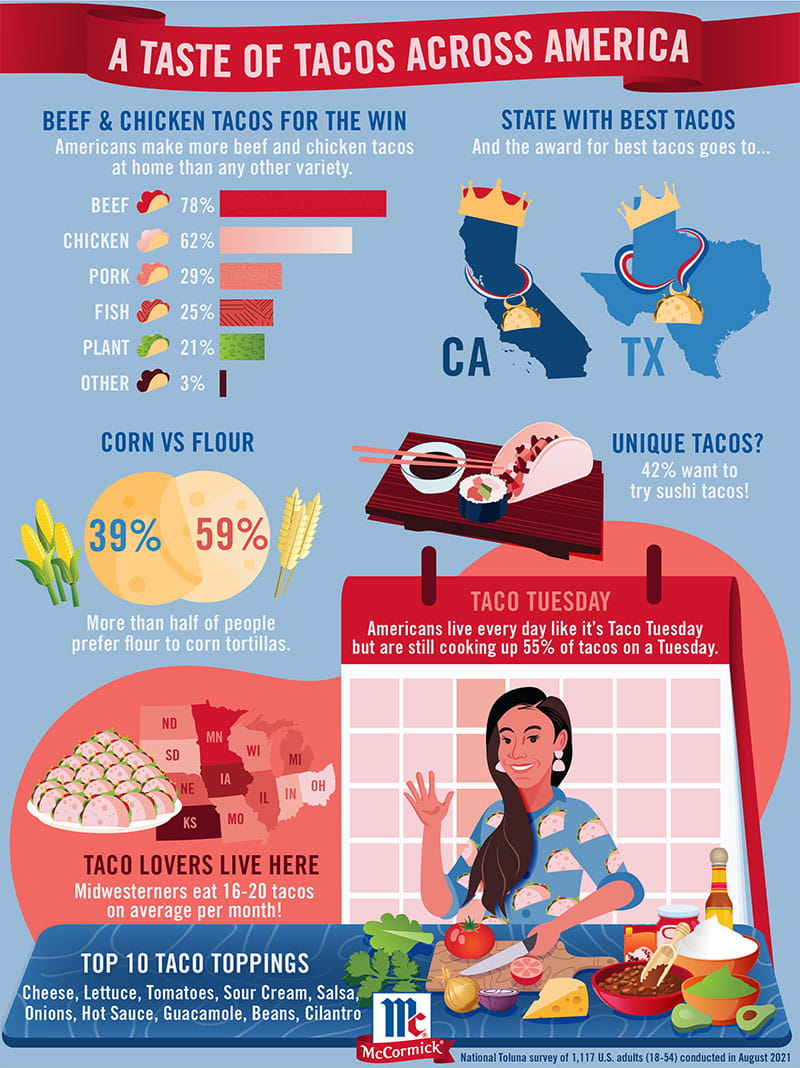 See Some of the Fun Applications
Follow along with the new Director of Taco Relations and keep up on all taco related news through the Flavor Maker app and social media: Instagram, Facebook, and Pinterest.