It's a Hot Wings Summer and that means venturing away from the bottle of hot sauce and stepping up your hot wings.
I have to admit that even though chicken is chicken, I never thought about flavoring chicken wings any other way than a variation of hot wings – hot sauce, hot spice rub, hot oil – that was about it.
A few years ago, I discovered the secret to keeping all that flavor on the wings instead of having it drip off the skin, but other than that, I kept making a variation on a theme. (The secret by the way is a half-cup of full-fat mayo – add that to your grilled hot wing recipe, and you will thank me.)
That is until my smart friend and co-author of What's 4 Dinner newsletter, Anthony Underwood, suggested that I take my "famous" Chimichurri sauce and make wings with it.
Chimichurri is one of those multi-purpose sauces like aioli that makes everything taste better.
I first learned to make Chimichurri in a food processor and I liked it. It was like a nice chunky vinegary garlic, olive oil, parsley-rich "vinaigrette" that was great for flank steak, but not particularly homogeneous.
But add a blender and it kicks classic Chimichurri sauce to the next level. Take those exact same ingredients, increase the amount of fresh parsley, turn the blender on medium-high and it's a sauce of another color! Literally, a dark green emulsified sauce with a flavor unto its own.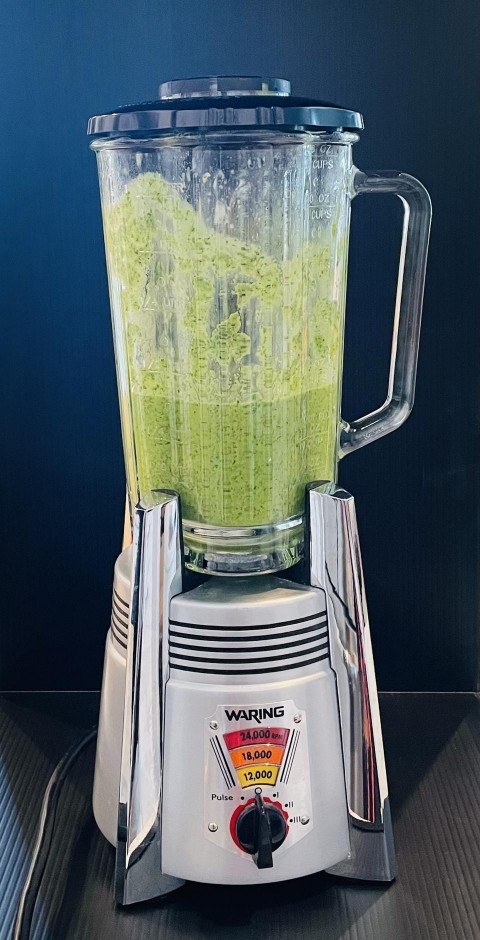 Making Chimichurri sauce in a blender is a game changer. The blender emulsifies all the ingredients and changes the flavor and texture of the sauce from chunky to silky.
Elizabeth Karmel
Once I started making it with a blender, I started using it to dress all kinds of things like potatoes and, beer-can chicken. But I didn't really think about using it a marinade until Anthony mentioned that I should try using my "secret" wings technique with the Chimichurri sauce.
As soon as he said it, I knew it would taste great. These are not your typical hot-wings wings. They are still wings, with all the things that you love about wings, highly seasoned, crisp, finger food and a great dipping sauce but elevated a little.
The herby garlic and oil and vinegar sauce is rich and a bit peppery but because of the acid in the sherry wine vinegar and the lemon juice, it is completely balanced and works with almost everything.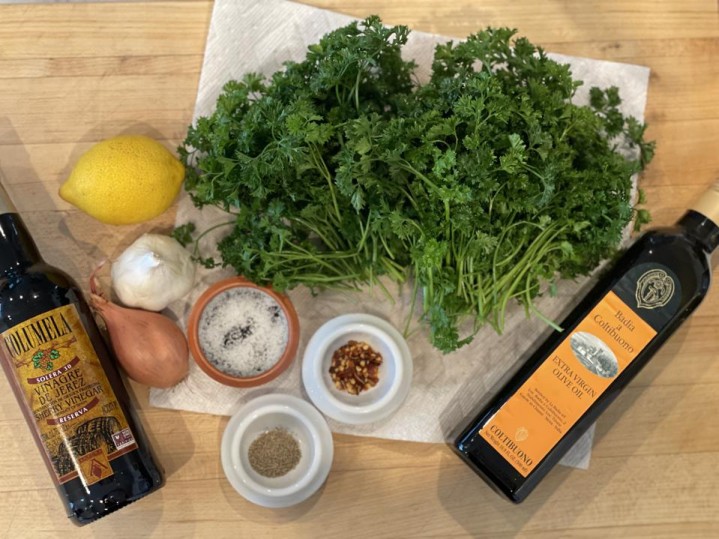 Curly parsley is the star in this Blender Chimichurri Sauce.
Elizabeth Karmel
It is very straight forward with the exception of the parsley – which is the main ingredient. I call it The Great Parsley Debate and I am firmly on Team Curly!
As you probably know, there are 2 main types of parsley – Curly and Flat-Leaf. The curly parsley is coarse and curly with ruffled leaves, and the flat-leaf is flat and slick and slightly shiny. The main reason that I prefer curly parsley is taste. The curly parsley tastes fresh and green and slightly grassy. It brings a fresh clean bright flavor to the Chimichurri. Flat leaf parsley has a stronger more assertive taste and to me tastes like cilantro which is polarizing.
The reason that it is a debate is that chefs tend to favor the Italian Flat-Leaf and think of curly parsley as the less sophisticated, less informed choice – like choosing iodized table salt instead of kosher salt. The truth is that there is a time and place for both and if you want the best tasting chimichurri, I think the choice is curly!
Once you've made the Chimichurri sauce, the marinade is easy. Use equal parts Chimichurri and full-fat mayo. The mayo will help the marinade stick to the wings and will become one with the skin resulting in a very flavorful highly-seasoned skin.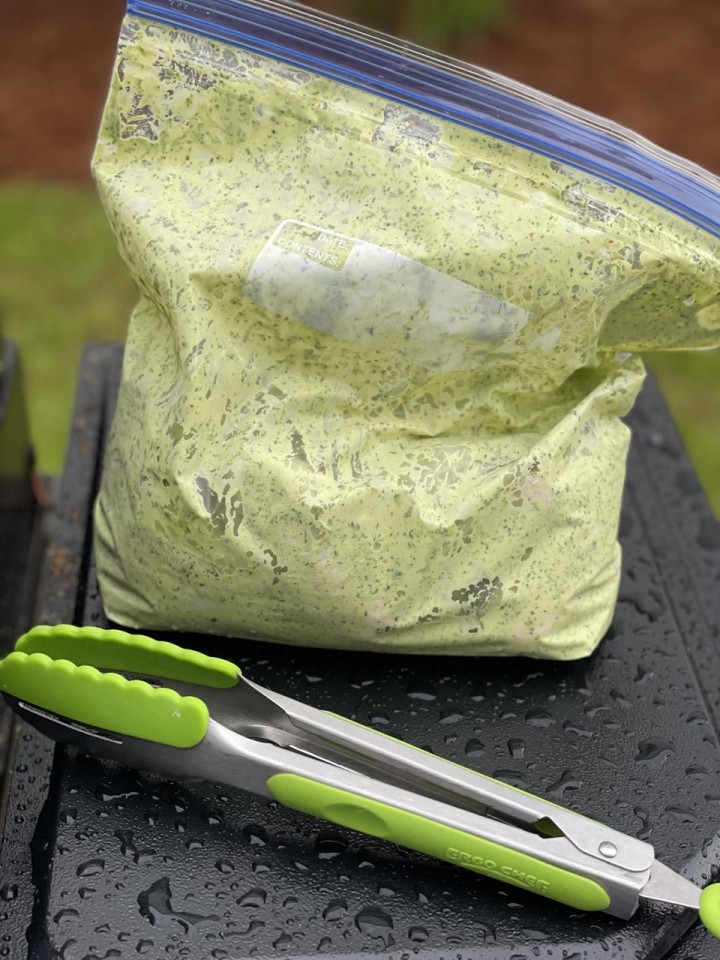 The mixture of blended Chimichurri sauce and mayo becomes a light green marinade that flavors the chicken wings and contributes to a highly seasoned crust.
Elizabeth Karmel
Chimi Wings
Think hot wings but Chimichurri. Chicken wings are marinated with homemade Chimichurri and mayo, and grilled until golden brown delicious! #GBD! The rest of the Blender Chimichurri sauce is your dipping sauce.
Serves 4
Grilling Method: Indirect/Medium-Low Heat
½ cup Hellmann's (original) mayonnaise
½ cup Chimichurri sauce (recipe below)
2 pounds chicken wings and drummettes
Fine-grain sea salt
Blender Chimichurri Sauce:
3-5 cloves of garlic
½ teaspoon fine-grain sea salt
½ teaspoon freshly ground white pepper
½ teaspoon Calabrian or American chili pepper flakes
1 medium shallot or onion, roughly chopped
¾ -1 cup of extra-virgin olive oil
3 tablespoons sherry wine vinegar, or red wine vinegar
Juice of 1 lemon, about 3 tablespoons
4 cups tightly packed chopped curly parsley with stems, about one nice big bunch
At least four hours in advance: Make the Chimichurri sauce by placing all ingredients except the parsley in a blender and blend until pureed.
Add the parsley a handful at a time. [Note: Trim the stems but keep them as they have more flavor.] You may need to push the parsley down into the liquid. It will have a beautiful green color and look like parsley "pesto."
Measure out ½ cup Chimichurri sauce and place into a non-reactive bowl. Add mayonnaise and whisk until well combined. This is your marinade for the wings.
Place in a bowl or large re-closeable plastic bag. Add chicken to the bowl or bag. Seal or cover tightly. Turn chicken occasionally to make sure all surface areas are wet and covered with marinade. Marinate for at least 2 hours covered in the refrigerator or as long as overnight.
When ready to grill, preheat grill with all burners on high. Reduce heat to medium-low indirect heat. Remove from bag or bowl from refrigerator and place wings in the center of the cooking grate over indirect heat. Make sure that each wing or drumette is coated with the marinade. Discard excess marinade.
Place wings directly on the cooking grate and let cook for about an hour. They should be mostly done at this time but not yet brown. Increase the heat and cook for 20–30 minutes or until golden brown.
Be sure to check along the way because these days the size of wings vary a lot and the larger the wigs, the longer they will take to cook. My wings were medium large and took a full 90 minutes. I've grilled smaller wings and they only took 60 minutes total.
Close the lid to the grill and let smoke/grill for 50–60 minutes or until the marinade is set and the wings are starting to get crispy on the ends.
If you want to cook them at the higher indirect temperature the whole time, they will be done a little sooner but be sure to watch them. The slower cooking insures that they are fully cooked, tender and juicy and I think it's worth an extra half an hour.
Remove from grill, place on a clean platter and let rest for 5–10 minutes.
Sprinkle with sea salt if desired, but they shouldn't need much as they will already be seasoned from the Chimichurri sauce and the mayonnaise.
Serve with extra Chimichurri sauce for dipping
Note: You do not need to turn the wings. You will know that they are done when you see crispy bits and the skin has receded from the ends of some of the bones. This won't happen on all the pieces because of the way they are butchered.
This article was written by Elizabeth Karmel from Forbes and was legally licensed through the Industry Dive Content Marketplace. Please direct all licensing questions to legal@industrydive.com.