Whether you're a football fanatic, or are just in it for the eats, watching sports just wouldn't be the same without a great spread of snacks. And since no one wants to spend the day running back and forth from the couch to the kitchen, we've got a list of grab-and-go bites and game day snacks that are guaranteed to keep you satisfied, from the initial kickoff to final touchdown.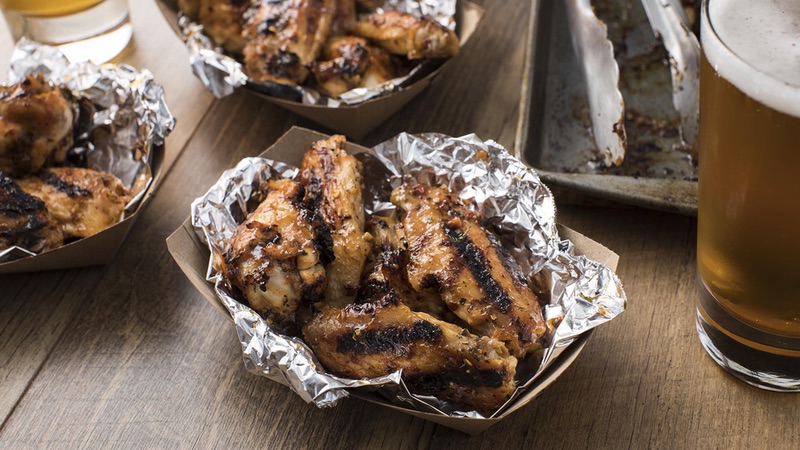 First step to avoiding food-related fumbles is to have wings — and plenty of them — at your party. There's a reason we call these zesty, herb-marinated chicken pieces Fiery Kickoff Wings because they're sure to start game day off right. It'll just be up to your team to follow through with a win! 
Making them is super easy too - all you need is a package of McCormick Grill Mates Zesty Herb Marinade as your marinade base. Just add French's Tomato Ketchup, some white vinegar and a couple of teaspoons of crushed red pepper for a zesty, spicy classic game day snack recipe.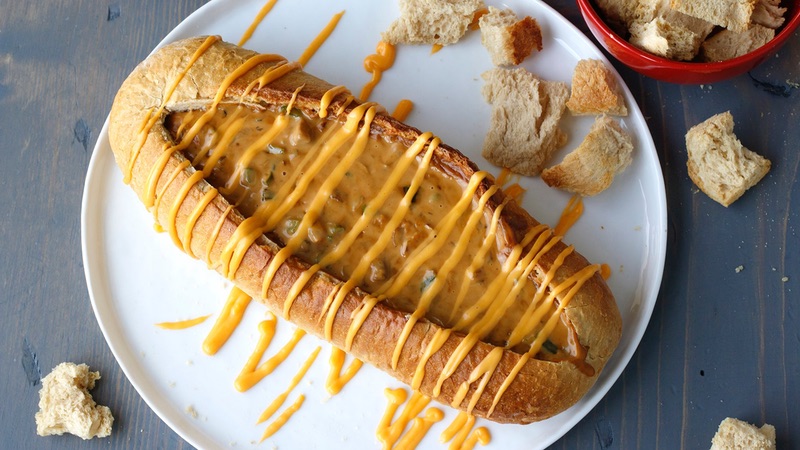 You'll never run out of finger food ideas if you find ways to transform your favorite dishes into dips. We've done just that to the Philly Cheesesteak, by folding together cheese sauce made with brown gravy and milk, along with onions, peppers, and bits of roast beef, and serving it in a hollowed out loaf of Italian bread.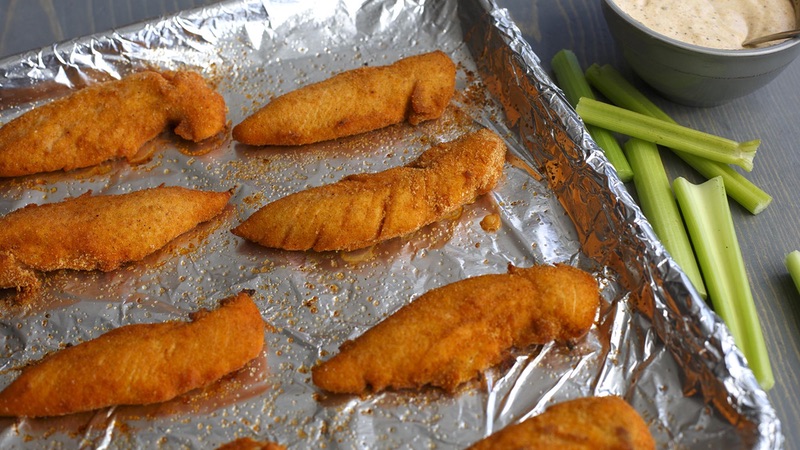 Nothing says Game Day like buffalo flavor. If you'd just as soon avoid the mess and fuss of bones, tenders make a great alternative to wings. And this recipe packs the same great buffalo flavor...so bring on the ranch dressing and celery sticks! Not in the mood to make your own seasoning? All you need is McCormick Original Buffalo Wings Seasoning Mix. 
However, if you want to really take things up a notch - marinate your chicken tenders in Frank's RedHot Original Cayenne Pepper Sauce.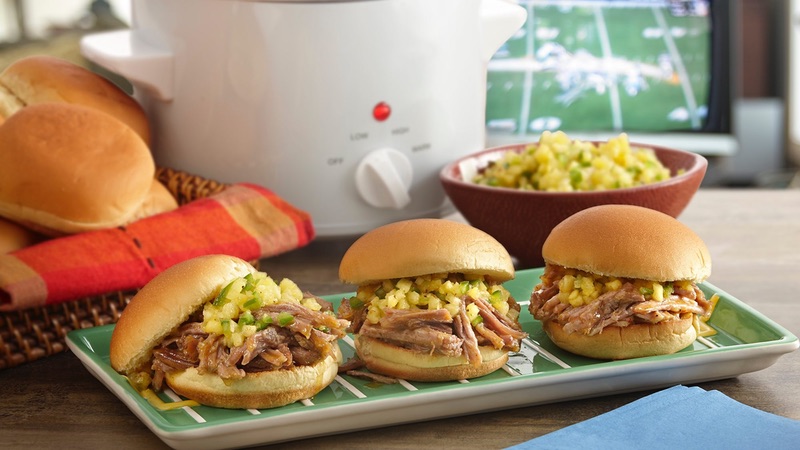 It may be the dead of winter, but these tropical salsa-topped sliders will transport you straight to the sunny Caribbean. 
These pulled pork sliders marinated in Perfect Pinch Caribbean Jerk Seasoning with brown sugar, crushed pineapple, jalapeño pepper, and orange juice in a slow cooker are super easy to make - plus it's a portable snack that's perfect for you and your guests to munch on while watching the big game.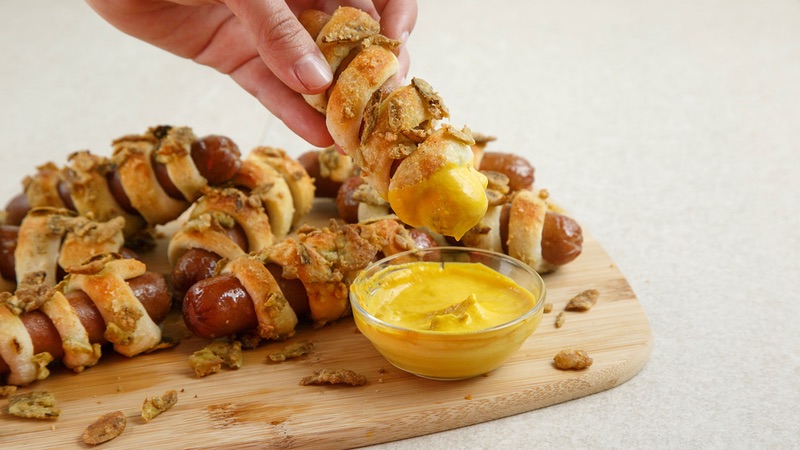 Wrapped in seasoned pizza dough instead of placed in buns, these easy, sports-friendly snacks are basically next-level pigs in blankets.
Topped and baked with French's Crispy Jalapenos, this game day finger food works perfectly with a homemade cheddar beer sauce made with salt and pepper to taste, butter, your favorite beer, lots of cheddar cheese and a bit of French's Dijon Mustard.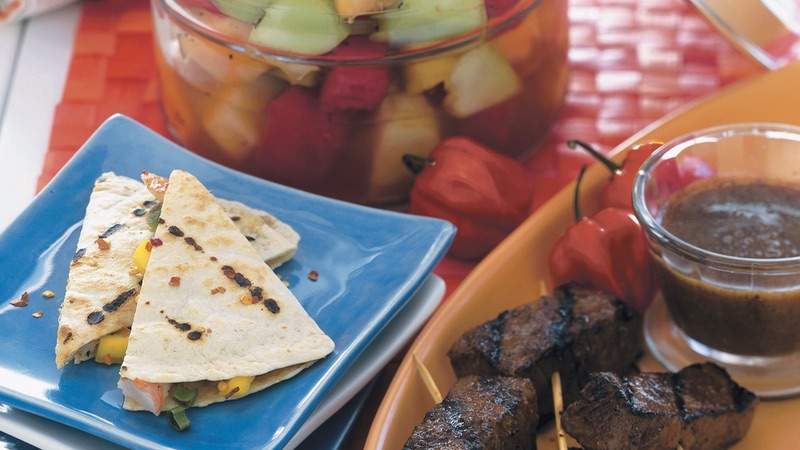 Ideal game day appetizers shouldn't involve a knife and fork. But if you string chunks of steak on skewers, they become perfectly portable snacks. With only one fist needed to dunk your bites in chili beer dip, you'll have the other one free to rock a giant foam hand.
Not your typical game day appetizer, these steak kebabs marinated in chili powder, ground mustard, beer applesauce, garlic salt, and brown sugar will blow your guests away.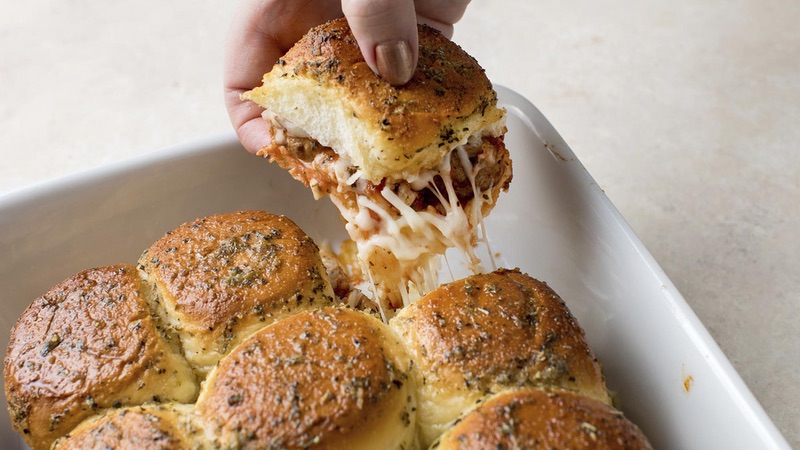 Instead of making multiple meatball subs, use Hawaiian dinner rolls to make fun-sized, party-ready sandwiches. These ooey-gooey meatball sandwiches are packed with garlic and Italian flavor.
Besides being totally tasty (all fused together with melty mozzarella and tangy provolone), the saucy squares are also interactive ... just pull off a portion and pop it into your mouth!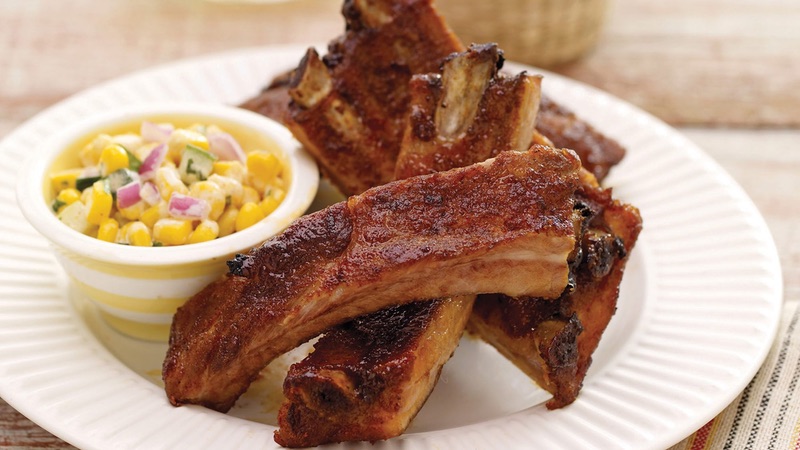 Why should chicken wings get all the love? In addition to being bite-sized, baby back ribs are also finger-licking delicious ... especially when rubbed with cayenne powder and cinnamon (plus seasoned with ground red pepper, garlic and sea salt), and finished with a maple syrup glaze.
You'll definitely want something sweet, to follow up on all of those super savory snacks. We'd say these adorably sporty truffles will score the winning touchdown for your football-viewing party ... especially with their unrivaled flavor combination of raspberry extract and chocolate.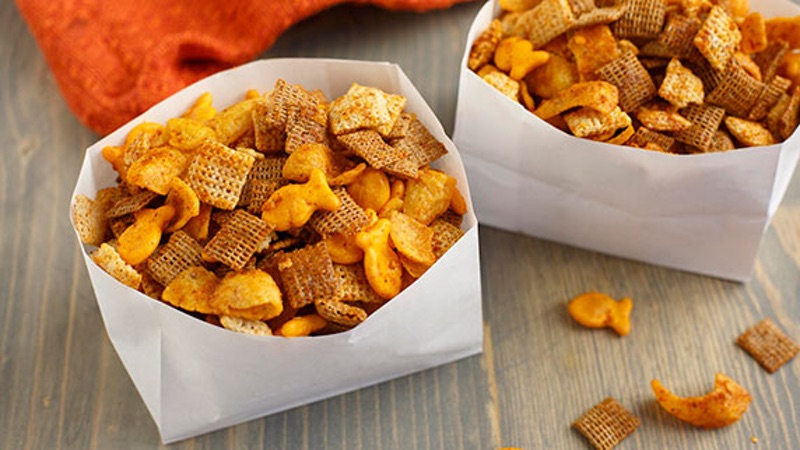 Need something for everyone to munch on during the pre-game? This homemade snack mix features our classic McCormick Taco Seasoning Mix with rice and wheat cereal bites, crackers, and corn chips. Get a delicious, slightly spicy snack ready in less than 15 minutes.
Try Other Game Day Foods & Recipes
Want some more good game day food ideas? Don't fumble the ball at your tailgate party with these helpful game day recipes.
• Vegan Game Day Recipes
• Game Day Grub Has Never Been Easier
• How To Host The Best Tailgate Party
• 7 Avocado-Packed Super Bowl Snacks
• 2019 Game Day Team Themed Recipes
• 10 Wing-Inspired Buffalo Chicken Recipes
Need help planning your weekly meals and want to try new recipes? Save your favorite food, dessert, drink recipes and organize your ingredients with McCormick Meal Planner.