When you need a quick one-pan dinner that has tons of veggies and protein, look no further than this egg roll skillet. Inspired by the tasty filling in Chinese egg rolls, this ground pork skillet requires very little chopping thanks to a bag of coleslaw mix, but it's full of ginger and garlic and all the hallmark flavors you expect from egg rolls. Skip the takeout tonight and give this a try instead!
Don't like pork? Go with your favorite ground meat instead; turkey or chicken would work well, as long as there's some dark meat in the mix. As for flavoring, use what you have handy: soy sauce, tamari, or coconut aminos all do a good job of adding savory flavors. When looking at cabbage slaw mix, try to find one that has purple cabbage and carrots so that the skillet is colorful; but feel free to experiment with a broccoli slaw mix for a different spin! Serve with a squirt of Sriracha for a spicy kick.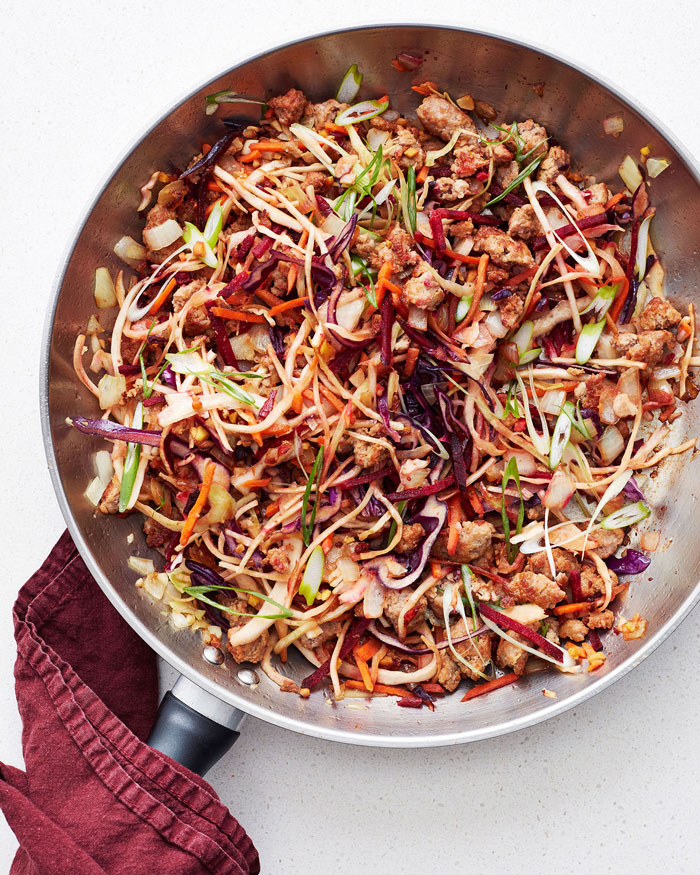 Egg Roll Skillet
Serves 4
1 tablespoon olive or vegetable oil
1 pound ground pork
1 medium yellow onion, diced
1/2 teaspoon kosher salt
Freshly ground black pepper
3 cloves garlic, minced
1 tablespoon minced peeled fresh ginger
1 (14-ounce) bag coleslaw mix
2 tablespoons tamari, soy sauce or coconut aminos
1/4 cup thinly sliced scallions
1 teaspoon toasted (Asian) sesame oil
1 teaspoon rice vinegar
Heat the oil in a large frying pan over medium-high heat until shimmering. Add the pork and onion, and season with the salt and pepper. Cook, breaking up the meat into small pieces with a wooden spoon, until the meat is cooked through and the onion is tender, about 8 minutes.
Add the garlic and ginger, and cook until fragrant, about 1 minute. Add the coleslaw mix and tamari and cook, stirring occasionally, until the cabbage is crisp-tender, about 3 minutes. Remove from the heat, add the scallions, sesame oil and rice vinegar, and stir to combine. Taste and season with salt and pepper as needed.
Recipe notes: Leftovers can be stored in an airtight container in the refrigerator for up to four days.
This article is written by Christine Gallary from The Kitchn and was legally licensed via the Tribune Content Agency through the NewsCred publisher network. Please direct all licensing questions to legal@newscred.com.