There's only so much you can do to turkey. And people tend to get a bit grumpy if you fool around with the mashed potatoes. When done correctly, Thanksgiving stuffing gives the creative cook a real opportunity to shine by customizing the dish to suit the tastes and preferences of their guests.
That said, having too many options can be intimidating. Understanding the basics of making stuffing will ultimately give you tremendous freedom to mix and match, without getting overwhelmed. Here's how to make stuffing from scratch: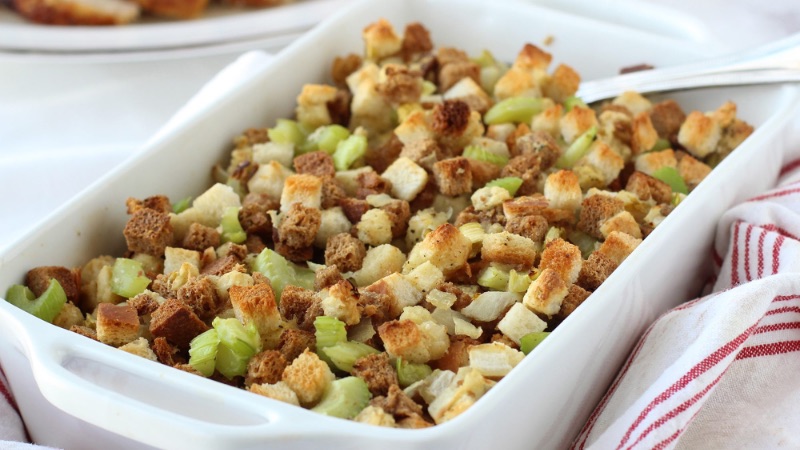 Step 1: Select a Starchy Stuffing Base 
Most holiday stuffing mixes use croutons, as in the classic stuffing recipe, which is a perfectly acceptable shortcut. It also goes to show that you can choose any form of cubed, dried out bread - as long as it soaks up stock and seasonings without getting overly soggy. It's a great use for day-old loaves, which you can purchase from any bakery at a reduced price. Or just use whatever you have laying around the house!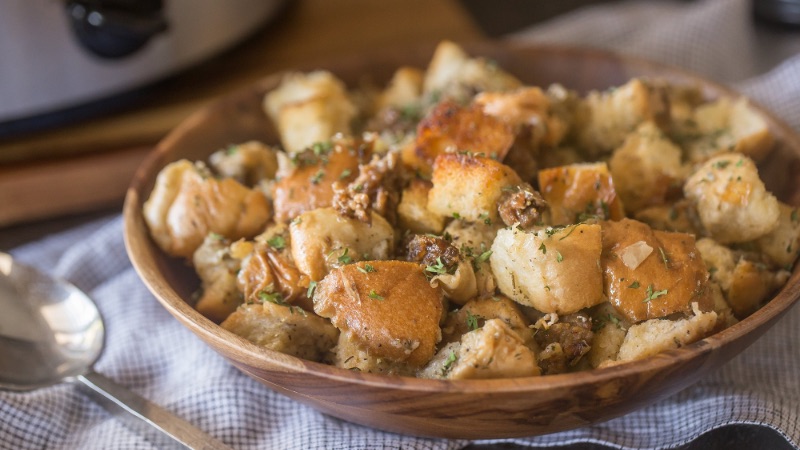 You'll never go wrong with a crusty white bread (hey look, you can even prepare this sausage stuffing recipe in a slow-cooker!). But why not think outside of the stuffing box, by using hearty whole wheat, rustic rye or pumpernickel raisin, which will really highlight the sweet and savory qualities that are frequently at play with turkey stuffing? 
Try your hand at this artisanal version of this holiday classic - this bread stuffing with apples and sausage feature all the seasonings you've come to love, like thyme, rosemary, and parsley.
Then there's that southern-style favorite, cornbread stuffing. It lends a different texture — crumbly instead of chewy — but brings plenty to the party as far as flavor is concerned. Corn is also believed to be one of the original foods enjoyed on the first Thanksgiving.
Plus, this version is a smoky yet sweet, hearty twist on traditional corn stuffing; it features brown sugar bourbon sausage baked in with the buttery goodness of crumbled cornbread.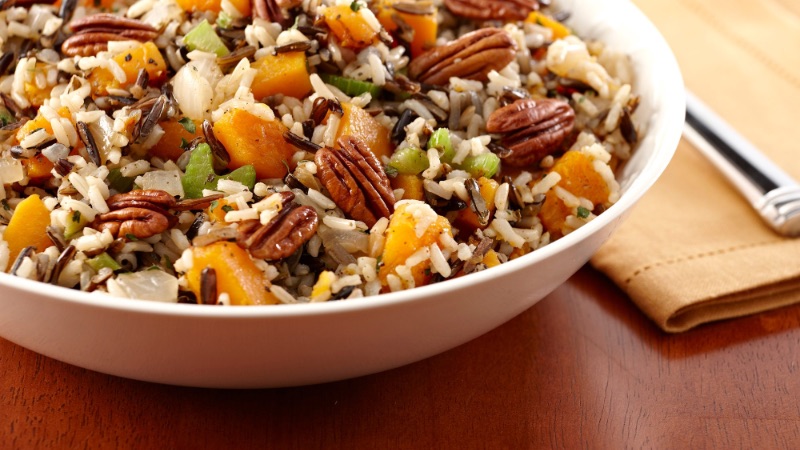 That said, there's no rule that you even need to use bread at all. Not only is rice a naturally gluten-free choice, but it also has a nutty quality that pairs perfectly with classic holiday ingredients. We especially love this Thanksgiving stuffing recipe, which mixes brown and wild rice with creamy butternut squash and crunchy toasted pecans.
Step 2: Add Protein to Stuffing
Stuffing is more than just bread (or rice) and broth. What makes it a substantial side dish are all the other yummy additions. Of course, it's important that they complement — instead of pulling attention away from — the turkey, which is the true star of the show. That's why sausages are a popular option, whether they're Italian links or spicy Spanish chorizo - this cornbread and sausage stuffing is a perfect example of how well it works as a hearty addition to your stuffing recipe. Sausages can be broken up into tiny, juicy crumbles, to play a tasty supporting role in your stuffing.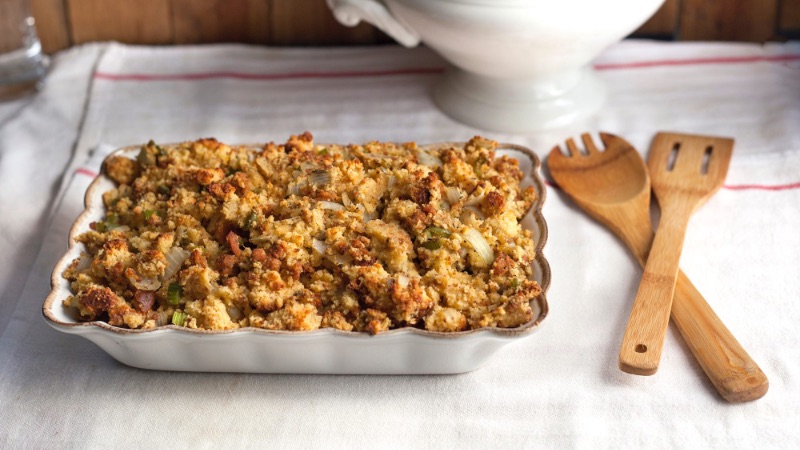 Though you'll want to avoid poultry, other ground meats work well too. Bring a bit of Latin American flair to the Thanksgiving table with this pork and beef picadillo. Often used to stuff empanadas, this cumin, oregano, black pepper, and clove seasoned treat will pair equally well with your bird.
And don't forget about oysters! While seafood may not scream Thanksgiving, oyster "dressing" is actually a beloved New England tradition. You'll understand why, once you try this silky, briny oyster stuffing, studded with smoky bacon and complemented by the warm, sweet flavor of nutmeg.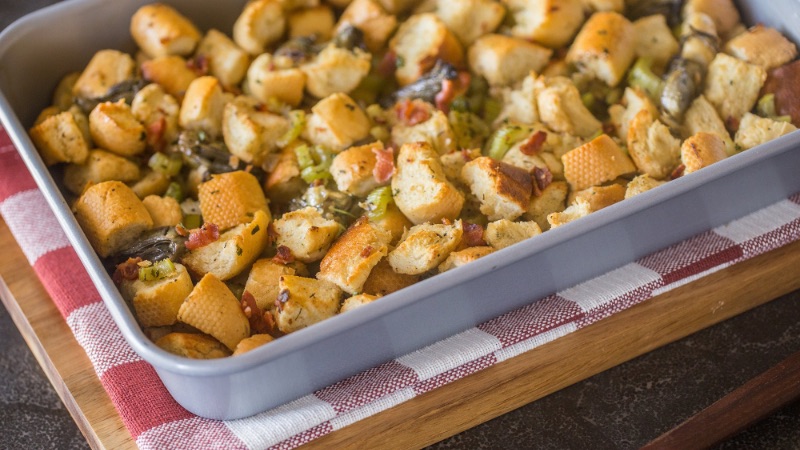 Not that you need meat at all. Veggies are excellent in stuffing -  this crispy fried onion stuffing recipe and earthy mushrooms are great. Fruit stuffing, like this fall-friendly cranberry apple stuffing or this mixed nut with prunes recipe works perfectly, too.
Step 3: Spice Up Your Stuffing
Always start with aromatics. This means a mix of onions, garlic, peppers, celery or carrots cooked together until tender, which will add incredible flavor to your dish.
Besides acting as a binder, stock is chock full of seasonings. Chicken or turkey stock seasoned with thyme is a favorite, but depending on your add-ins, consider vegetable or seafood as well.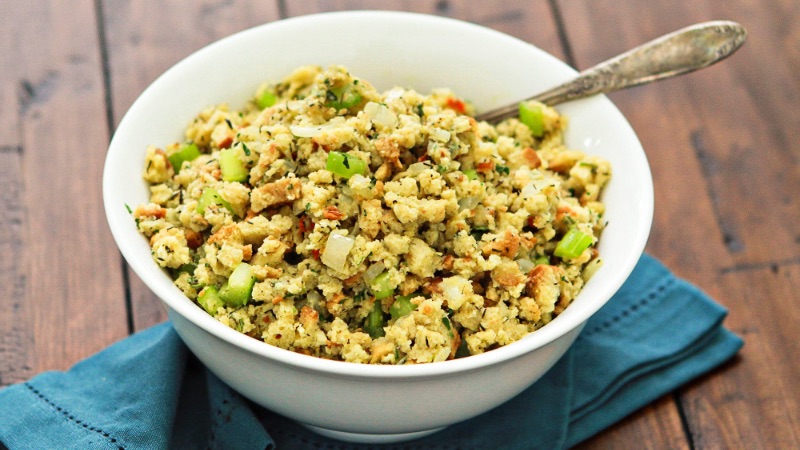 And don't skimp on spices and herbs. We're not just talking basics like salt and pepper, but fragrant leaves of sage, marjoram, tarragon, and thyme, too.
A final word on how to make stuffing?
Don't bother putting it in your turkey! Baking it in a dish allows the stuffing to cook thoroughly and evenly, and gives it those crispy edges everyone craves. You can even use a muffin tin, to cut down on cooking time, and form an even crunchier crust! 
These sausage stuffing muffins with sage and apple are a quick way to get all that Thanksgiving flavor in a single bite.
Now that you've made your own homemade Thanksgiving stuffing, check out some other dishes to bring to your Thanksgiving potluck or Friendsgiving.
Discover even more Thanksgiving recipes here!