Yes, we're still in the cookbook cookie parade—but I'll admit that whoopie pies don't exactly fit the category. First of all, they're called pies. But those soft, squishy treats feel more like cake, and look like a cookie… let's just agree that they deliciously defy categorization.
Likewise, chef and cookbook author Alex Guarnaschelli resists easy labels. In her latest book, The Home Cook, the Chopped judge translates sophisticated restaurant techniques and ingredients into approachable, any-night dishes. Guarnaschelli gets just as excited whipping up a fluffy soufflé as she does turning ugly vegetables into tasty dinners, all while showing how simple it can be to create memorable meals in your own home.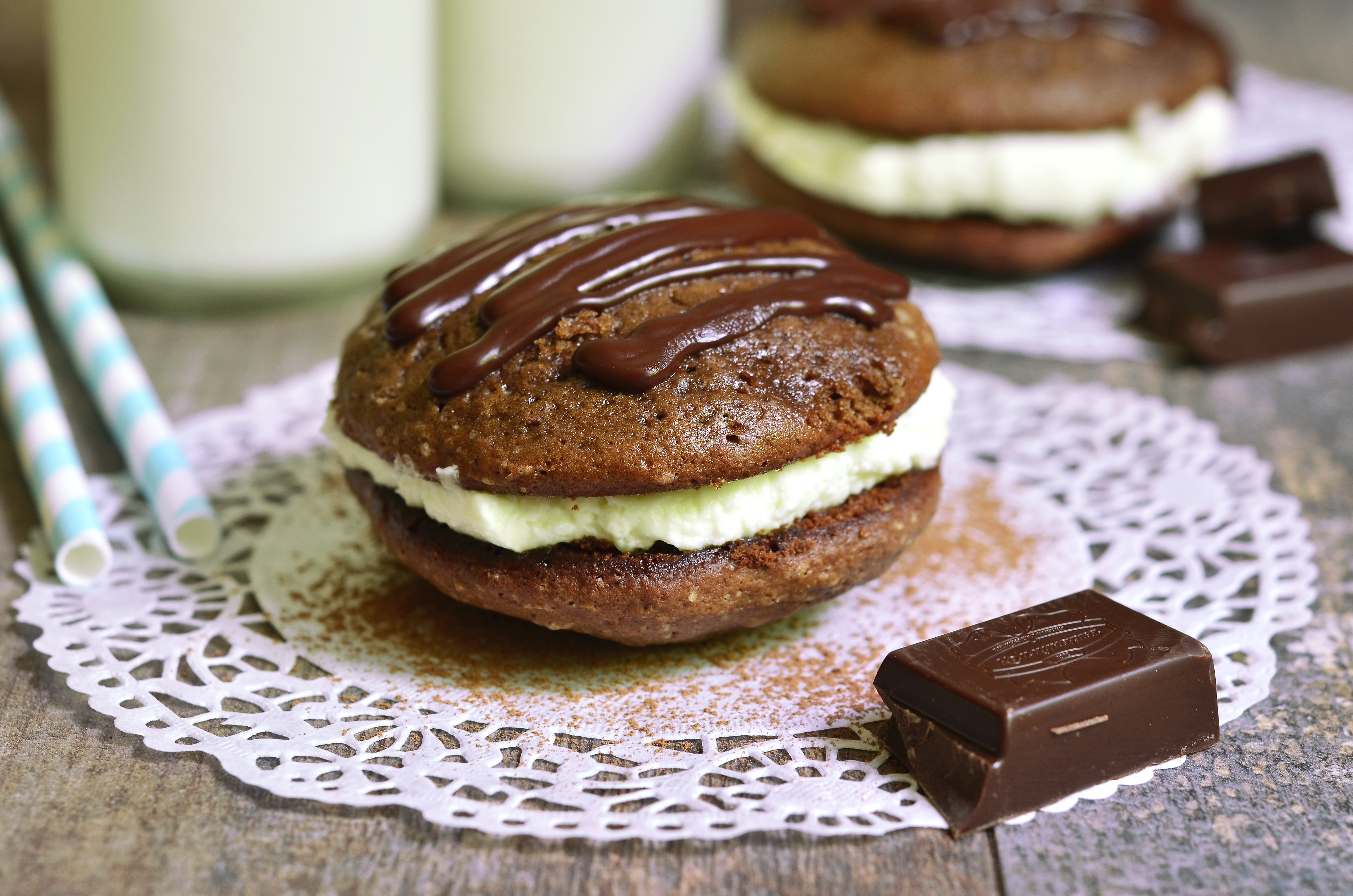 Guarnaschelli first encountered whoopie pies at her aunt's house in Maine as a child. "It was one of the moments when someone hands you something unexpected and wonderful," she writes. "You remember that taste as if it were yesterday."
For these chocolate almond whoopie pies, she pairs decadent almond cream with rich chocolate. For an extra crunch, she adds slivered almonds atop the filling before squishing the cookies together. When we made the pies, we found the recipe yielded about half of Guarnaschelli's serving note, so either make smaller pies or double the recipe if you want the full 16.
Chocolate Almond Whoopie Pies
Pies
1 ounce unsweetened chocolate, chopped
1 cup (6 ounces) semisweet chocolate chips
8 tablespoons (1 stick) unsalted butter, cubed
1 cup sugar
3 large eggs
2 teaspoons vanilla extract
1 cup all-purpose flour
1/3 cup unsweetened dark cocoa powder
1/2 teaspoon baking powder
1/2 teaspoon kosher salt
Filling
1 1/4 cups whole milk
1 cup slivered blanched almonds, toasted
1/3 cup sugar
2 tablespoons all-purpose flour
2 tablespoons cornstarch
3 large egg yolks
1 teaspoon almond extract
This article was written by Katie Macdonald from Food52 and was legally licensed through the NewsCred publisher network. Please direct all licensing questions to legal@newscred.com.