Forget Atkins and paleo -- the new low-carb diet du jour is called keto, as in ketogenic. Although there are many similarities between these diets, a keto diet is all about restricting carbohydrates and increasing healthy fats. The goal is to force your body's metabolism into ketosis, which means it burns fat instead of glucose -- because without carbs, glucose isn't readily available.
But without carbs, sandwiches aren't available either, and if there's one thing followers of these diets miss the most, it's got to be bread. Luckily, enterprising food-lovers following a keto diet have figured out a work-around. It's called "90 Second Keto Bread" and it's popping up all over the internet. Think of it like a mug cake version of a biscuit that happens to look a lot like an English muffin.
Here's how it works: You whisk an egg with a little coconut or almond flour and add a pinch of salt and baking powder, oil, and milk. Zap it for one minute and 30 seconds in the microwave, and you end up with a cylindrical "loaf" of spongy bread-like stuff.
Some recipes use coconut flour, while some use almond flour. Others go unapologetically into biscuit mode and add cheese and herbs. I tried them all.
First I tried using coconut flour only. The batter was very thick and pasty, and the resulting bread was very firm and dry (like a really dry biscuit). It did, however, keep its shape well and toasted up evenly golden-brown in a skillet with oil. I thought about trying again with more liquid, but that wouldn't solve its fatal flaw: the strong, overwhelming coconut flavor. Even chicken and sun-dried tomato pesto could barely cover it up.
Version two was almond flour only. Right away I could tell the recipe would need some modifications. Almond flour doesn't soak up nearly as much liquid as coconut flour, resulting in a very soupy batter. I added two more tablespoons of almond flour, which was double the amount of coconut flour, and it still wasn't nearly as thick. After its short stint in the microwave, this bread turned out very moist, soft, and rather flimsy, but was pleasantly bland enough to go with any filling I wanted.
It just needed a bit more structure, so for trial number three I split the difference, using half coconut flour and half almond flour. There's a reason they say the third time's a charm. This was the perfect blend. The bread was moist but firm enough to hold its shape, and it didn't taste like coconut. After that, I began experimenting: Hazelnut flour worked great, and cheese and scallions added great flavor.
Keto bread certainly doesn't have the satisfying chew of wheat bread; its texture is a bit more cakey and tender. And it definitely benefits from additional flavors, such as herbs, spices and cheese. And forget the toaster -- the best way to crisp it up is in a little oil in a hot skillet (but be vigilant! It takes less than a minute).
I'm not following a keto diet, but I can definitely see adding this super-fast high-protein biscuit-bread to my morning routine. Even my kids enjoyed it with spoonful of jam.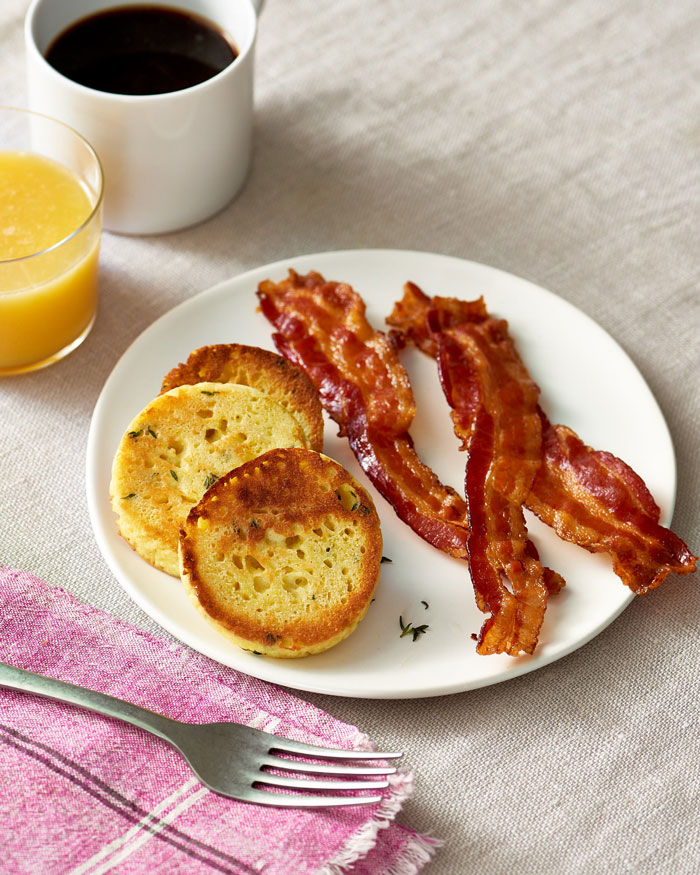 90-Second Keto Bread
Makes 1 mini loaf
1 large egg
1 tablespoon milk
1 tablespoon olive oil
1 tablespoon coconut flour
1 tablespoon almond or hazelnut flour
1/4 teaspoon baking powder
Pinch salt
Optional add-ins:
1/4 cup grated cheese
1 tablespoon minced scallions or herbs
Whisk the egg, milk, oil, coconut flour, nut flour, baking powder and salt together in a small bowl. Add the cheese and scallions or herbs, if using, and stir to combine.
Pour into a tall microwave-safe mug and tap the bottom firmly on the counter a few times to force any air bubbles to rise and pop. Microwave on high for 1 minute and 30 seconds.
Invert mug onto a cutting board and let the bread slide out. Cut crosswise into 1/2-inch-thick slices. To toast, heat a teaspoon of oil in a small skillet over medium-high heat until shimmering. Add the slices, and toast until golden-brown, about 30 seconds per side.
This article is written by Danielle Centoni from The Kitchn and was legally licensed via the Tribune Content Agency through the NewsCred publisher network. Please direct all licensing questions to legal@newscred.com.