Flavor Profile
You'd never guess how different cinnamon tastes once it's roasted. The slow, gentle heat transforms traditional cinnamon's sharp, sweet flavor into something rich, deep and toasty. One taste and you'll want to make it a pantry staple, with a spot right next to the regular version. Roasted cinnamon is a delicious addition to everything from morning oatmeal to French toast to sticky buns to snickerdoodle cookies. But it isn't just for sweets. We love this spice's savory side. Middle Eastern meat kabobs and stews take on even more character when roasted cinnamon stands in for regular. It's also an easy way to switch up your favorite chili or beef stew. Sprinkle it in yogurt with a spoonful of honey and use it in any spice cake or cookie recipe. Roasted cinnamon should smell rich, warm and slightly sweet, like a buttery spice cookie, right from the oven.
Usage
Use roasted cinnamon anywhere you want to intensify the cinnamon flavor. Try it in French toast, homemade granola, muffins and sweet rolls, spice cake and pecan pie.
Cinnamon brings a toasty undertone to savory dishes in many cultures. Mexican chili, Middle Eastern braised lamb, Indian curries, Moroccan chicken—any and all will gain greater richness and depth when you substitute roasted cinnamon for regular.
We don't just want extra warmth and flavor in cold weather beverages, we need them! Which makes roasted cinnamon a must-have for mulled cider, spiced red wine, morning cocoa, eggnog, rum toddies and afternoon lattes.
Perfect Partners
Any fruit—peaches, plums, blueberries, apples—will get a lift from roasted cinnamon. Whether baked into a pie or tart, sautéed with butter and sugar or whipped into a smoothie with yogurt, roasted cinnamon will add rich flavor.
On the savory side, roasted cinnamon finds a surprising match in citrus fruits. For a quick weeknight dinner, we love baking chicken breasts with roasted cinnamon, a pinch of thyme leaves and a splash each of orange juice and olive oil.
Roasted cinnamon pairs beautifully with the classic ingredients of the Middle East, like almonds, raisins, cardamom and cloves. Add chunks of lamb or chicken, a handful of chickpeas and a splash of rich chicken broth for a satisfying stew.
Substitutes
Q: If I don't have roasted cinnamon on hand, what makes a good substitute?
A: You can always substitute regular cinnamon. But roasted cinnamon adds depth and richness to cinnamon's sweet, spicy warmth. Try toasting regular cinnamon yourself. It's easier than you might think! Swirl cinnamon in a dry frying pan over medium heat. Keep it moving in the pan. Turn off the heat the moment the spice becomes more fragrant.
Cinnamon has a long and fragrant history. Ancient civilizations called this dried tree bark "sweet wood" for its warm flavor and sweet, woodsy aroma. The Egyptians, including Cleopatra, used it as perfume. And it was burned as incense in the Middle Ages to freshen the air in wealthy homes. We may be separated from our ancient relatives by millennia, but we remain connected by our love for cinnamon.
Popular Recipe Recommendations
Cinnamon Rolls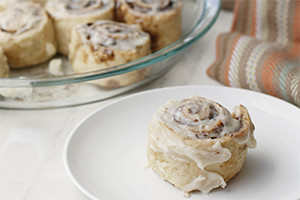 Cinnamon Bun Latte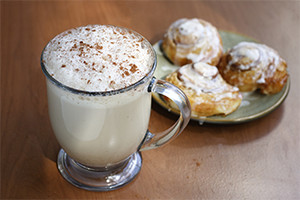 Spice-Roasted Sweet Potatoes