It's a notable ingredient for skin lotions. It's a decorative plant for your back garden. It's a greeting you might use when meeting your friend Vera. But did you know that Aloe vera can also make some delicious drinks and meals?
What Is Aloe Vera?
Aloe vera is a succulent plant. It has serrated, fleshy leaves that flower in the summer, which make it suitable as an ornamental plant, but people have also long believed in its benefits for the skin (which is why you put aloe-based ointments on sunburn).
Where Does Aloe Vera Come From? 
While Aloe vera originated along the Persian Gulf, it has spread around the world, reaching as far as China, Australia, and Mexico, where people cultivate it commercially. The plant grows in hot environments, flourishing in both tropical and desert areas, and you can also grow it indoors. 
Can You Eat Aloe Vera? 
Yes you can eat Aloe vera. One less-known use of Aloe vera is as a food ingredient. The plant makes its way into commercial food products including yogurts and desserts. Your recipes and drinks can take advantage of its unique and subtle flavor profile: a slightly bitter initial taste followed by a gentle sweetness.
Where To Buy Aloe Vera Plant
You can buy an Aloe vera plant at your local nursery garden and leaves are usually available at the grocery store. If this is your first time cooking Aloe vera leaves you'll find yourself waving them around asking "What am I supposed to do with these?" Fear not, because cooking with Aloe vera is easy. We're here to help.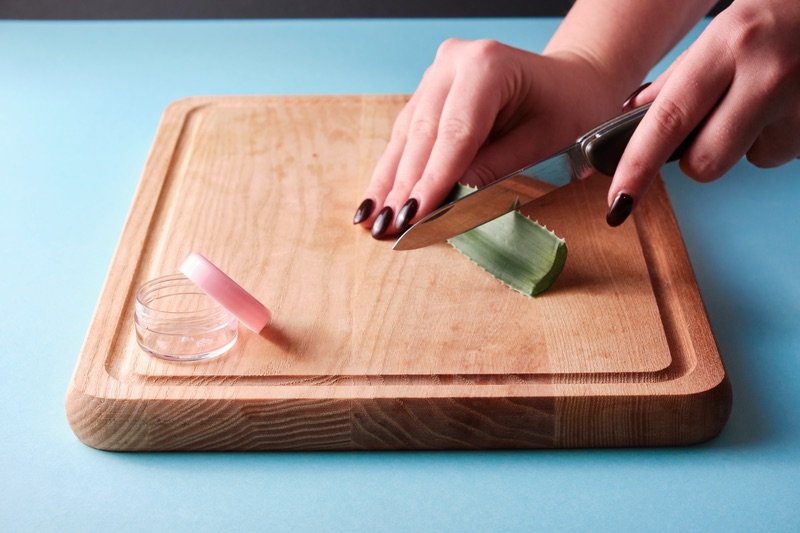 How To Clean Aloe Vera
Preparation is everything when cooking with Aloe vera. While people have praised the planet's health effects for years, eaten the wrong way it can be toxic. The leaves comprise the edible skin, and an inner gel. It's the clear inner gel that finds its way into commercial food products, but a yellow latex also sits between the gel and the skin. People have traditionally used this as a laxative, but if you consume too much of it, it can be toxic and even lethal, so beware.
Trim off the base and end of the leaf, along with those spiky serrated edges.
Soak the leaf, keeping it fully submerged to help the latex leech out.
Wait until the water turns a cloudy yellow color.
Replace the water until it stays clear.
Use a knife to slide easily between the skin and the gel, pulling them apart.
You'll end up with a gooey translucent gel that has a similar texture to the inside of a grape.
Rinse it until it loses its slimy texture.
It's ready to use.

How To Drink Aloe Vera
You can blend the gel directly into an Aloe vera juice recipe. Some of its natural 'green' taste might remain, but you can temper this with other sweeter flavors such as sugar cane juice or fruit juice.
Aloe Vera Drink Recipes
Aloe vera also makes a great base for thicker drinks such as this Mixed Berry Coconut Smoothie or a Turmeric and Cinnamon Chocolate Banana Shake. To get a thicker consistency for other smoothie recipes, use more of the gel and add sweet ingredients such as honey, dates, or fruit. Alternatively, try using its cool texture to complement this Cucumber Celery Slushie. Or when the kids are in bed, add it to a grown-up cocktail like this Pumpkin Pie Spiced Pina Colada.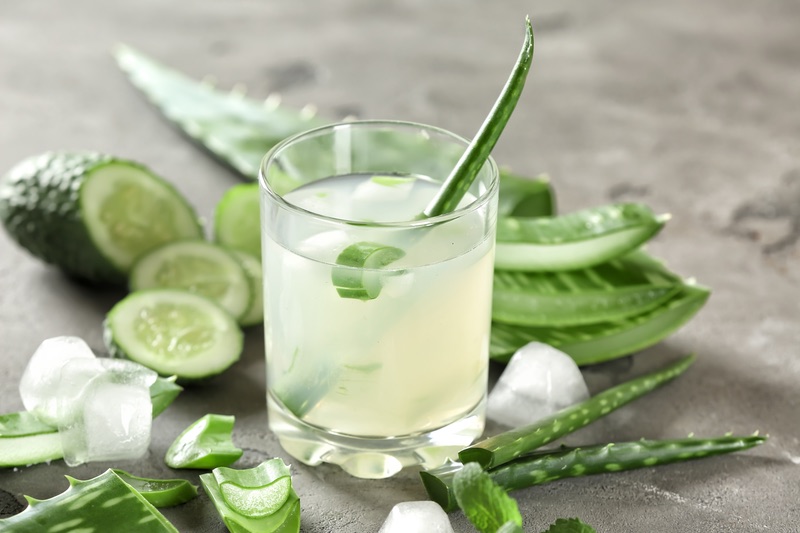 How To Cook Aloe Vera
Poach cubes of Aloe vera gel over low heat for a few minutes with some sugar and lime or lemon juice to create a jello-style ingredient that you can put on yogurts and other desserts. Alternatively, you can mix gel cubes into a wide variety of salads, including fruit ones, or even put it into a salad dressing by blending it with olive oil and other typical dressing ingredients like basil or lemon juice. 
Aloe Vera Recipes
Aloe vera's uses don't stop at drinks. You can also put parts of it in breakfast dishes like this Overnight Vanilla Cinnamon Chia Pudding or a Tropical Acai Bowl. Alternatively, use it in salads. Try mixing it into this Mango Basil Seed Oil-Free Dressing. Aloe vera gel could replace the cactus in this Ensalada de Nopales.
Aloe vera's relatively neutral flavor makes it great for adding into all kinds of dishes, even when they don't list it as an ingredient. It could add some extra texture as a component in this Apricot Basil Seed Yogurt Dip with Turmeric and Ginger, for example, and you can even add it into snacks like these Mango Lassi Bars. The options for incorporating this healthy food into family meals are endless.
This versatile plant can make you feel good on the outside and the inside. Take the plunge and bring home an Aloe vera leaf from your grocery store today to create a great conversation piece when you serve it up as a key ingredient in a glass or a bowl.
Other Plant Recipes & Tips
Now that you have mastered cooking with Aloe vera, check out some of our other favorite plant recipes to cook with for your next meal. 
Get help planning you weekly meals, save recipes and organize your ingredients with McCormick Meal Planner.