Salads are usually cold and refreshing – and when temps dip below freezing, you may crave something a little heartier and a little warmer. These tips from restaurant chefs and other salad experts will help you make a perfect salad for wintertime.
I love salad. The way the ruffles of leaves hold onto flavor-dense dressing. The crunch of raw vegetables. The tenderness of add-ins like dried fruit, hard-boiled eggs, roasted beets and beans. All of these add a change in texture as they hide in the folds of my greens. Every bite can be a perfect one with an even toss. And, I think most people would agree, I love how I feel after I have a fantastic salad: refreshed, satisfied and like I did something good for me.
However, even the most die-hard salad lovers can find eating a cold bowl of chilled plants is more of a challenge as the temperature outside dips into that at which your ingredients are stored. 
Unless you have the guidance of chefs and professional salad developers to steer you into winter salad bliss, that is. With the right winter tweaks, a bowl of greens can be just as hearty and cozy as a hearty stew, helping to ensure that you get your full fill of veggies year-round and with pleasure.
Here are some of their best tips to help you fall back in love with salad this winter.
1. Roast Some Vegetables
There are few ingredients that, once roasted, can't be added to a bed of lettuce, providing an anchoring texture you can really bite into. Obviously, roasted proteins like chicken, fish, beef, tofu or pork are a great way to add homeyness and oomph. But executive chef Chris Smith, of Atlanta hotspot Saints and Council, roasts vegetables too: "I like to bring in root veggies like Brussels sprouts, radishes, squash and parsnips and brighten them with items that will mentally take you to a fireside or similarly comfortable setting, such as pears, cranberries and pomegranates."
"We use carrots, parsnips and beets," says Drew Erickson, executive chef of modern American restaurant Camp in Greenville, South Carolina. "All of these have sweet flavor profiles, just as a tomato would in the springtime," which helps to balance greens. But don't feel rooted to root veggies! Ali Banks, vice president of culinary for "creative salad" chain Chopt, reveals a switch from steamed to roasted broccoli for their recently revamped menu, "to max out on flavor and texture." 
2. Toast Your Nuts
Toasted nuts add buttery, smoky elements that bring warmth to mind, which is why Charis Neves, director of salad kit innovation at Taylor Farms, incorporates them into many of their winter-ready kits. She explains, "Pan-roasting nuts for a few minutes on the stove adds a smoky savoriness to slightly sweet salads, and because nuts have such a naturally high oil content, they cook without anything [else] in the pan," making them an easy way to winterize your salad.
3. Turn Over a New Leaf
No, we're not talking about resolutions. Top Chef contestant and James Beard Award-winning chef Kevin Gillespie of Gunshow means this literally. "Consider nontraditional salad greens. Think Brussels sprouts, radicchio, Swiss chard, frisée," he says. Erickson agrees, and leans toward kale salads as a favorite for his season-inspired restaurant. "It's hearty and resilient and lends itself to pair perfectly with a sturdy vinaigrette and roasted root vegetables." Banks casts a vote for kale too, but also suggests swapping in cabbage as a substitute for tried-and-true romaine and arugula. It's certainly not just for slaw anymore, as this sturdy green is a foundational ingredient in many of Taylor Farms' most popular year-round chopped salad kits.
4. Change How You Dress
Consider switching from a vinaigrette to a creamier dressing. Banks gravitates toward flavors like Chopt's Lemon Tahini or the new Red Chile Ranch for a more robust flavor profile and texture. But thick dressings aren't your only option. Erickson anchors cider-vinegar-based dressings with tamari or soy sauce for a boost of flavor and umami, which in turn makes your salad more savory for comfort-food vibes. (Give our Maple-Mustard Vinaigrette a try; it's made with cider vinegar and soy sauce.) Smith recommends a warm bacon vinaigrette, which is as good on nearly any other green as it is the baby spinach it's traditionally paired with. 
5. Go Ahead, Get Cheesy
You can also warm up your salad with cheese. That doesn't necessarily mean literally warm, although we're certainly not saying no to baked goat cheese or grilled halloumi. But big-flavor types like gorgonzola, goat and feta add creaminess as well as richness to any salad. Sharp provolone and Cheddar will also pop loudly against a green background. Yet one more way to choose cheese is Neves' waste-not strategy. "As many people entertain in the winter months, they may have an abundance of cheese and meats – think leftover charcuterie – that can become delicious salad toppers. I think it's a natural evolution for appetizers to be used up in such a delicious way."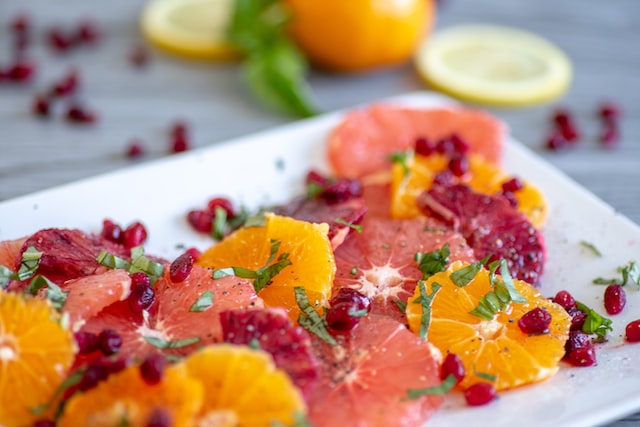 Photo by Kristen Kaethler
6. Add Some Vitamin C
And as bright as citrus is, it's also a winter-ready flavor. Neves finds that a citrus vinaigrette with salad greens creates a colorful pop, and Gillespie is with her all the way. "Oranges, lemons, limes and grapefruit alone or in any combo really spruce up a winter salad," he says. "I like to mix them, like using lemon in my vinaigrette and orange in the salad for punch."
7. Make It Grainy
Make your salad more filling and winter-ready with a scoop of grains. Chopt has made an entire line focused on bulking up your veggie-based meal, with your choice of mixed grains, cauliflower rice or both as your base. Banks tells us: "We're launching the ability for customers to create their own warm bowls using half grains and half greens, which makes any offering heartier while warm temperatures keep it cozy. We balance every bowl with greens, choppings and dressings to ensure each bite is still light and flavorful."
So this winter, fall in love with greens all over again. With these pro tips, you'll find it hard not to.
This article was written by Su-Jit Lin from EatingWell and was legally licensed through the Industry Dive Content Marketplace. Please direct all licensing questions to legal@industrydive.com.