Risotto has a reputation for being one of the harder-to-master Italian dishes. Overcook the rice, you quickly ruin it. Overstir, and you lose the creamy, rich texture risotto is renowned for. "Cooking risotto is not as simple as it looks; there is a real skill to it," explains San Pellegrino Young Chef finalist Antonio Salvatore, who recently took the helm at iconic Monte-Carlo restaurant Rampoldi. "You need to choose the right produce, time it well and take care at each step. You don't want to serve risotto too soft or too al dente."
It's hard enough to cook rice, let alone perfect a one-pot wonder like risotto where just the right amount of creaminess is key to getting the rice to melt in your mouth like butter instead of melding into an oatmeal mush. According to Salvatore, the trick is in the timing. The chef spends 16 minutes exactly focusing just on feeding risotto with stock or water, eyeing the rice while it simmers to ensure that the liquid is slowly plumping the grains rather than quickly drying them out. As with pasta, al dente is key to this Italian style of cooking.
While Salvatore hails from the southern Italian region of Basilicata—and risotto is a tradition born in the northern Italian provinces of Lombardy and Piedmont—like most Italians, his earliest memories date back to the family kitchen and garden.
"Everyone in southern Italy knows about cooking. It's a way of life," he says. "You came home from school and helped in the kitchen or garden, whether you liked it or not." Home-cooked pasta was a Sunday staple in the Salvatore household, and the 31-year-old chef started refining his technique young, working in kitchens in his hometown of Potenza when he was only 12 years old before hopscotching around Italy, rising through the ranks at Michelin-starred restaurants. With a resume that counts private cheffing for a jetsetting Sheikh to revamping the classic Mediterranean menu at Monaco's Rampoldi (a royal favorite Grace Kelly frequented back in the day), Salvatore has more than mastered the trick of turning out a quick and easy risotto that marries well to seasonal ingredients, yet doesn't stray too far from tradition.
Here, Salvatore shares seven common risotto mistakes to avoid.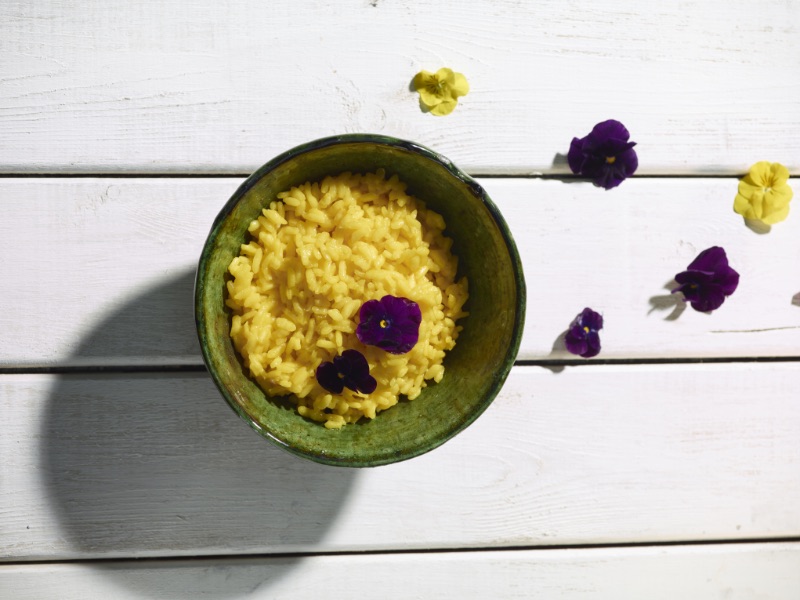 Buying the wrong rice
"The biggest mistake in cooking risotto often takes place at the supermarket rather than the kitchen," Salvatore says. The most important thing when preparing risotto is choosing the right rice, since long or sushi grains won't work. One chef favorite: carnaroli rice. Many recipes call for arborio, but longer-grained carnaroli is key to that sought-after creaminess (plus it's harder to overcook). Salvatore heads straight to the source in Piedmont to purchase top-quality rice from the markets, but the next best thing to Italian supermarket shopping is Acquerello's aged carnaroli rice. "It fuses the nutrients of brown rice and the ease of cooking white rice," the chef says. "Plus, their carnaroli has a pleasing texture and aroma."
Rinsing rice with water
Just like sushi, risotto needs to retain its sticky consistency. Washing the rice strips off the starch that's the key element to maintaining that classic creamy texture.

Choosing butter vs. oil
Once you pour your risotto into a heated pan with garlic or shallots, the trick to the next stage is deciding when to use butter or oil. According to Salvatore, it all depends on the ingredients. The chef prefers oil over butter (and oil works particularly well with seafood risottos), but butter is better for vegetable-based dishes like Rampoldi's black truffle with mushroom or mixed vegetable and ginger vegan risotto.
Toasting the rice too long
After you've settled on butter or oil, toast the rice in the pan for only a minute and not more, Salvatore advises. This is the step where some chefs also splash in white wine, but Salvatore typically skips this ingredient, since he finds it adds a bitter flavor to the dish.
Overstirring
"Don't stress about constantly stirring risotto," Salvatore says. "It's much better to stir once every 30 seconds and trust the cooking process to do its thing." Overstirring is one way to quickly ruin a risotto's texture. With the right cooking temperature (a medium bubble), the rice will continue to move on its own, so you only need to stir to ensure the rice doesn't stick to the bottom of the pot.
Spending more than 20 minutes at the stove
"One of the surest ways to ruin risotto is overcooking," Salvatore says. Slowly slip in stock or water while the risotto cooks at a medium simmer, pausing until each portion of the liquid has been absorbed before adding more. When you're about halfway through this process (which should take around 16 minutes in total), add salt into the simmering pot. Keep in mind a ratio of one cup of rice to 2.5 cups of stock, adding in a touch more stock to achieve that creamy, silky consistency if you wind up cooking your rice a bit too long. Risotto shouldn't take more than 20 minutes to cook to reach that ideal al dente texture that's just firm enough in the center without giving it a Playdough-like moldable quality.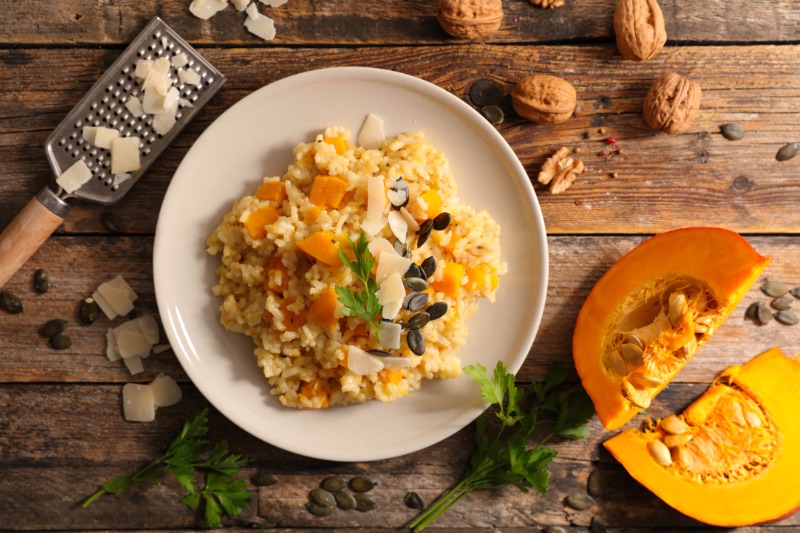 Adding final ingredients over heat
Once most of the stock is absorbed, take the pot off the stove to cool for a few minutes. Italian chefs get specific about how many minutes you should allow the rice to sit before you're ready to start the mantecatura stage (executive chef Heros De Agostinis at Brown's Hotel in London advises three minutes exactly), when you start adding in the final ingredients that give risotto its creaminess. Now is the part we've all been waiting for, when you can get creative with your cooking by throwing in those rich elements that make risotto feel like a luxury without ever being too heavy. Think butter and grated parmesan, but never, never oil. Risotto's appeal is its creamy texture, and olive oil would do just the opposite—causing the rice to separate and lose that full flavor that's made it a classic staple of Italian cuisine.
This article was written by Lane Nieset from Food & Wine and was legally licensed through the NewsCred publisher network. Please direct all licensing questions to legal@newscred.com.