Flavor Profile
"Sugar and spice and everything nice." The classic nursery rhyme sums up just how many people feel about this traditional cinnamon and sugar blend. When combined with sugar, cinnamon's warm, spicy flavor cuts sugar's sweetness and lends an unmistakable aroma. It's the comforting scent of Sunday morning cinnamon toast and mid-summer's peach cobbler. It's the flavor of hot cappuccino on a cool afternoon and French toast at weekend brunch. It's the aroma of the holidays, with cinnamon cookies and spice cake. You'll know it's McCormick cinnamon sugar when it tastes warm and toasty and smells sweet and tingly, like a sticky bun hot from the oven.
Usage
Cinnamon sugar is a must-have at the breakfast table. We love it in French toast, blueberry muffins, oatmeal, waffles with syrup and homemade granola for a sweet start to any day.
There's no better use for cinnamon sugar than sprinkled over melted butter on crisp, hot toast. Need we say more?
Fruit, whether fresh in a salad or baked into a cobbler, buckle, tart or pie, is the perfect vehicle for cinnamon sugar's spicy warmth. Sprinkle it on top or fold it into your fruit filling for easy, delicious flavor.
Perfect Partners
Cinnamon sugar never met a cookie it couldn't improve. We love to dip a fork in the mixture when pressing the hatch pattern into classic peanut butter or molasses cookies. Or try rolling balls of butter cookie dough in cinnamon sugar before baking.
Nobody will ever know you used refrigerated breadstick or biscuit dough if you brush it with melted butter and cinnamon sugar before baking. You've just made the perfect afternoon snack or Saturday morning breakfast treat! Any fruit cobbler or crisp—peach, blueberry, apple, plum—will benefit from a dusting of cinnamon sugar over the topping just before you pop it in the oven. It'll bring sparkle and crunch to the finished dish.
Substitutes
Q: If I don't have cinnamon sugar on hand, what makes a good substitute?
A: This is an easy one! Simply combine ground cinnamon and sugar. Add as little or as much cinnamon as you'd like. Taste as you go to make a blend that's just right for your recipe. That's all there is to it.
History/Fun Facts
The 1600s, it turns out, were banner years for cinnamon. That's when cinnamon toast—nothing more than cinnamon and sugar on hot buttered bread—was first recorded as a childhood favorite. It's also when recipes for cinnamon sticks (or at least a form of them made with gum Arabic, rosewater, cinnamon and sugar) were prescribed as "good for colds, or children in church." Today, we prefer natural cinnamon sticks, of course, but we still love cinnamon toast—and the essential dusting of cinnamon sugar on top.
Popular Recipe Recommendations
Cinnamon Bread Sticks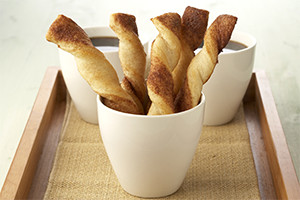 Overnight French Toast