Move over, breakfast, lunch and dinner––there's a fourth meal in town! Believe it or not, an unofficial name has been assigned to our universal love of snacking. And eating smaller meals, more often, has been a big trend (fun fact: millennials have been found to snack four times a day––far more than any other generation to date!).
It's safe to say that snacking is pretty much the norm. But that doesn't mean it's advisable to graze all day on pizza, chicken wings and chips. That's why we're sharing tasty, smart snack ideas, ideal for any time your body is in need of a fourth (or fifth, or sixth) meal.
Check out our easy snack recipes and ideas below: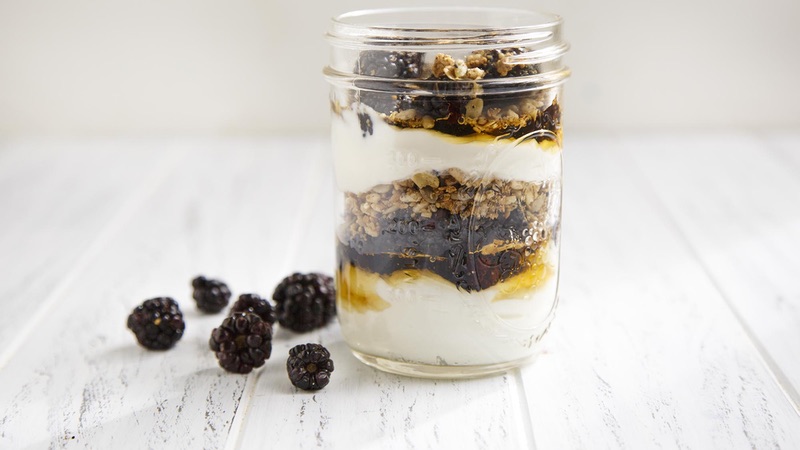 1. Energizing Snacks
Snacks should lift you up, not drag you down, which is why we love parfait recipes. Not only are the layered treats super portable (try building one in a mason jar), but our Blackberry Ginger Parfait contains everything you'll need to get you through the day (thanks to McCormick Good Morning Blueberry Ginger Breakfast Topper Mix). Greek yogurt is a great source of nutrients and proteins, while juicy berries provide an antioxidant boost!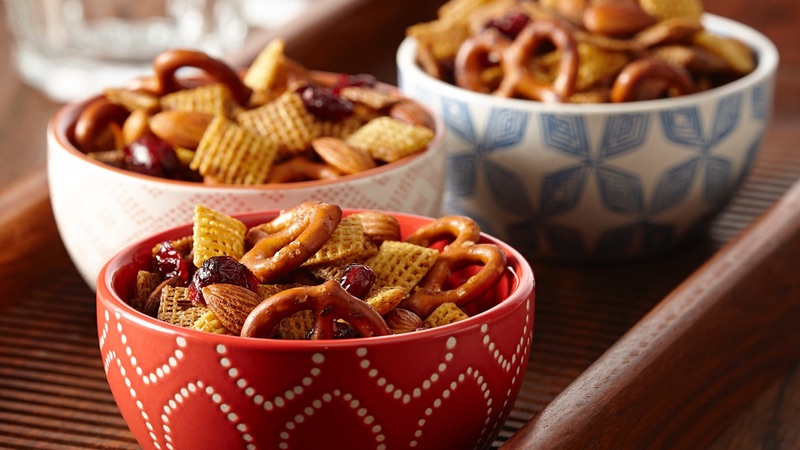 2. Prepare Packable On the Go Snacks
When you're always on the move, it's tough to make smart snacking choices. So be sure to have something delicious with you, for whenever hunger strikes.
Cinnamon Trail Mix is one of our go-to easy snack recipes, because it doesn't require refrigeration, is simple to put together, and even easier to throw in a bag.
All you need is your favorite rice cereals, pretzels, almonds, cranberries, brown sugar, a bit of butter and a dash of pure vanilla extract, ground cinnamon, and ground nutmeg. One batch should last you all week. Well, it could, if it weren't so addictively delicious!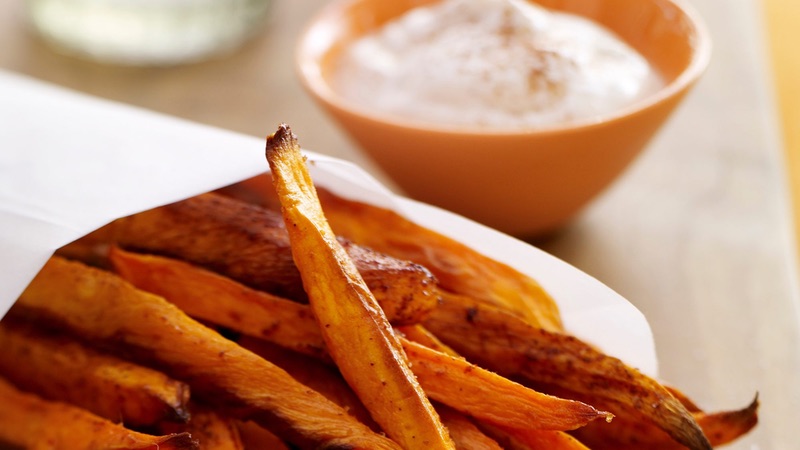 3. Make Smart Snack Swaps
Instead of saying sayonara to your favorite foods, simply serve "cleaned up" versions instead for an easy snack swap. Craving french fries? Try our Baked Sweet Potato Fries with Honey Spice Dip. Seasoned with ground ginger and cinnamon and a pinch of salt to taste, these sweet yet savory french fries are accompanied by a honey spiced dip made with sour cream, yogurt and brown sugar.
Crazy for chicken fingers? Garlic Ranch Chicken Tenders achieve the same crunch in the oven with panko crumbs. Or try these chicken fingers made with McCormick Garlic Ranch Seasoning - ready in just 30 minutes.
In need of something sweet? Bring on the Salted Caramel Dipped Grapes — basically a bite-sized take on candy apples!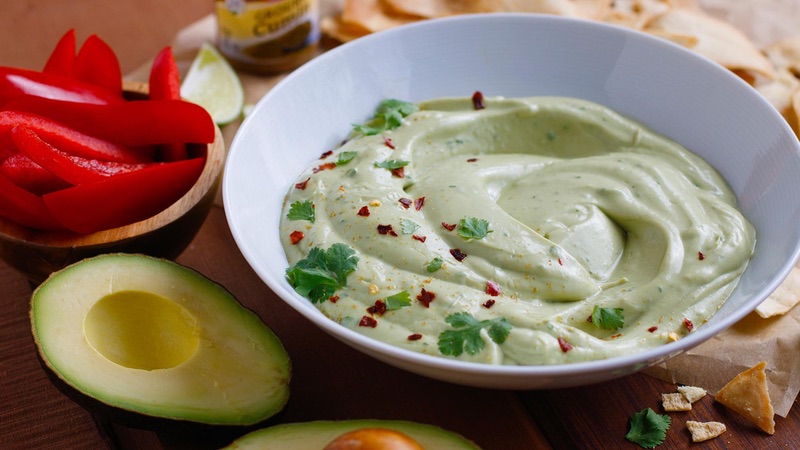 4. Yogurt Snacks
From yogurt cups to creamy, dairy-based dips, you'd be hard pressed to find a healthier, more satisfying snack. When it comes to yogurt recipes, this Avocado Yogurt Dip is a real MVP.
That's because it makes it easy to get in your recommended daily serving of veggies. All it takes is one dunk ... you won't be able to resist those raw cucumbers and carrots!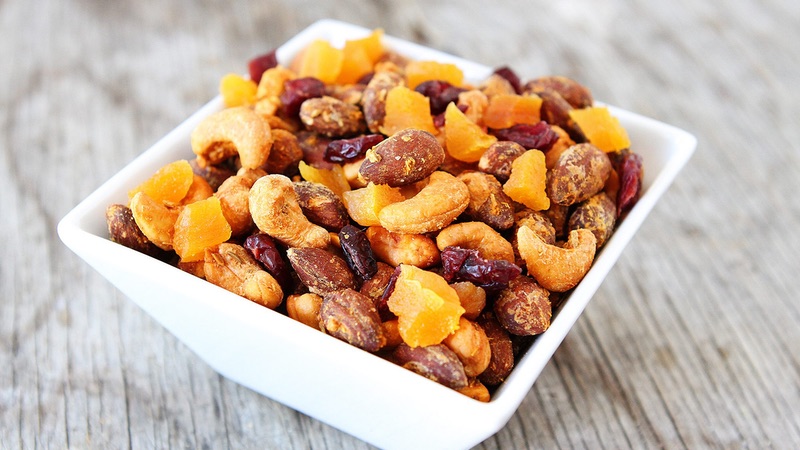 5. Nut Snacks
Nuts are great when it comes to nutritious snacks, because they actually help you feel full. (Yummy as they are, can you really say the same about chips?)
And they're versatile too, as they can take on the flavor of whatever you put with them. Think Cinnamon Vanilla Glazed Walnuts, and Peri Peri and Fennel Spiced Nuts with Dried Fruit.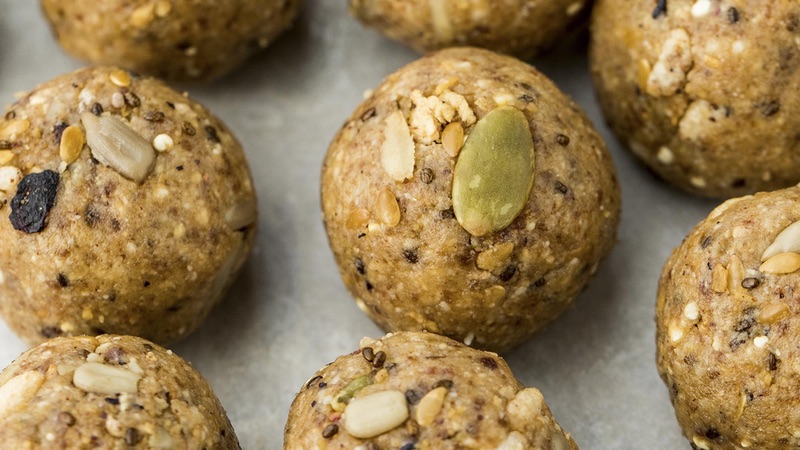 6. Sweet Snacks
Whether you're talking breakfast, dinner or the so-called "4th meal," denying yourself what your body truly craves is just no fun. The easiest way to have your cake and eat it too? Just take a smaller slice of it!
These No Bake Blueberry Cashew Ginger Bites are perfectly portioned for controlled snacking. Though they taste sinful, they're actually made with only four, feel-good ingredients. We won't tell if you sneak just one more!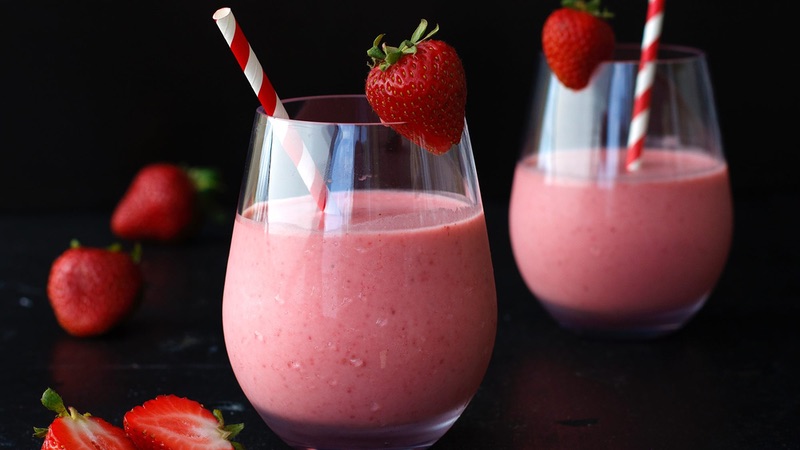 7. Smoothies as Snacks
Sometimes, we think our body is telling us we're hungry, when we're actually just thirsty. The lucky thing is, beverages can also count as feel-good snacks.
Drink to your health by whipping up a glass of Turmeric Golden Milk or a Strawberry Coconut Milk Smoothie. The key here is Thai Kitchen Coconut Milk - it's a great dairy substitute or alternative, plus it's super creamy and adds a slightly nutty, sweet taste to your smoothie. You can also use light coconut milk for an airier, fluffier texture.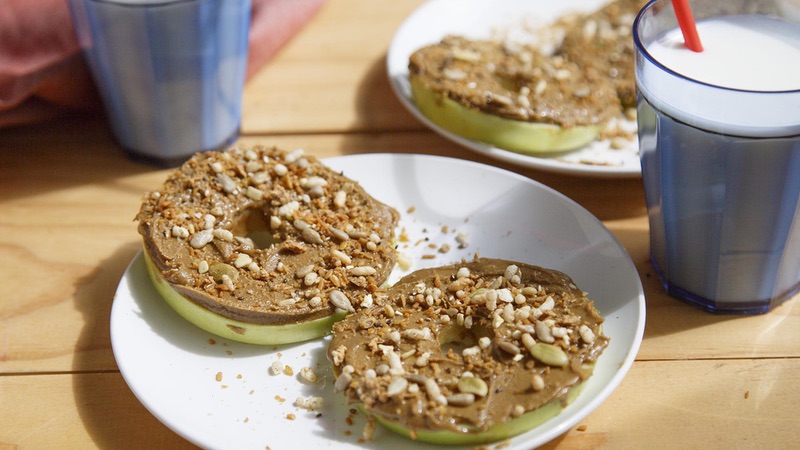 8. Late Night Snacks
If you tend to be a late night grazer, be mindful that your snacks don't end up keeping you awake. A combo of carbs and protein are said to increase tryptophan levels...you know, that thing that makes you sleepy after Thanksgiving turkey.
So try these apple "sandwiches" slathered with sunflower butter, and sprinkled with a blend of pineapple, coconut, chia seeds and flax.
Love the idea of smart snacking? Take this better-for-you eating style and expand it to breakfast, lunch, and dinner with a plant based approach or discover new eating styles in our keto, paleo and vegan diet guide today!
Easy Snack Ideas
Need more snack recipes to help satisfy your hunger throughout the day? Check out some of these snack recipes below:
• Mix It Up With This Sweet-Savory Snack Combo
• Our Guide To Out-Of-The-Box Snacks
• 10 Game-Changing Snacks You can Enjoy On-The-Go
• 7 Avocado-Packed Super Bowl Snacks
• Top 10 Game Day Find Food Ideas
• Use An Air Fryer For Optimal Snacking
Need help planning your weekly meals and want to try new snack recipes? Save your favorite foods, snacks, desserts, drink recipes and organize your ingredients with McCormick Meal Planner.