Frying anything to order for a party is not something I particularly enjoy -- in fact, it's a task I actively avoid. Even if I had one of those huge industrial fryers (which is actually one of my dream kitchen components), I still wouldn't want to do it, and I'm a professional cook!
However, wings are one of those classic game day snacks that I really don't want to forego for a Super Bowl party. So, how to reconcile the warring factions of my brain and my stomach? I take a tip from the playbook for the tastiest roasted chicken. I use a dry brine to let the salt work its magic on the skin, and a low-to-high heat oven roast to make those wings sing.
Don't be put off by the hours the chicken spends in the fridge and in the oven. This is all hands-off time for you, so as long as you have a timer on your phone (and I know you do!), then you're in the clear to make these exceedingly crispy-skinned wings and not smell of frying oil all night. Winner, winner, chicken wing dinner.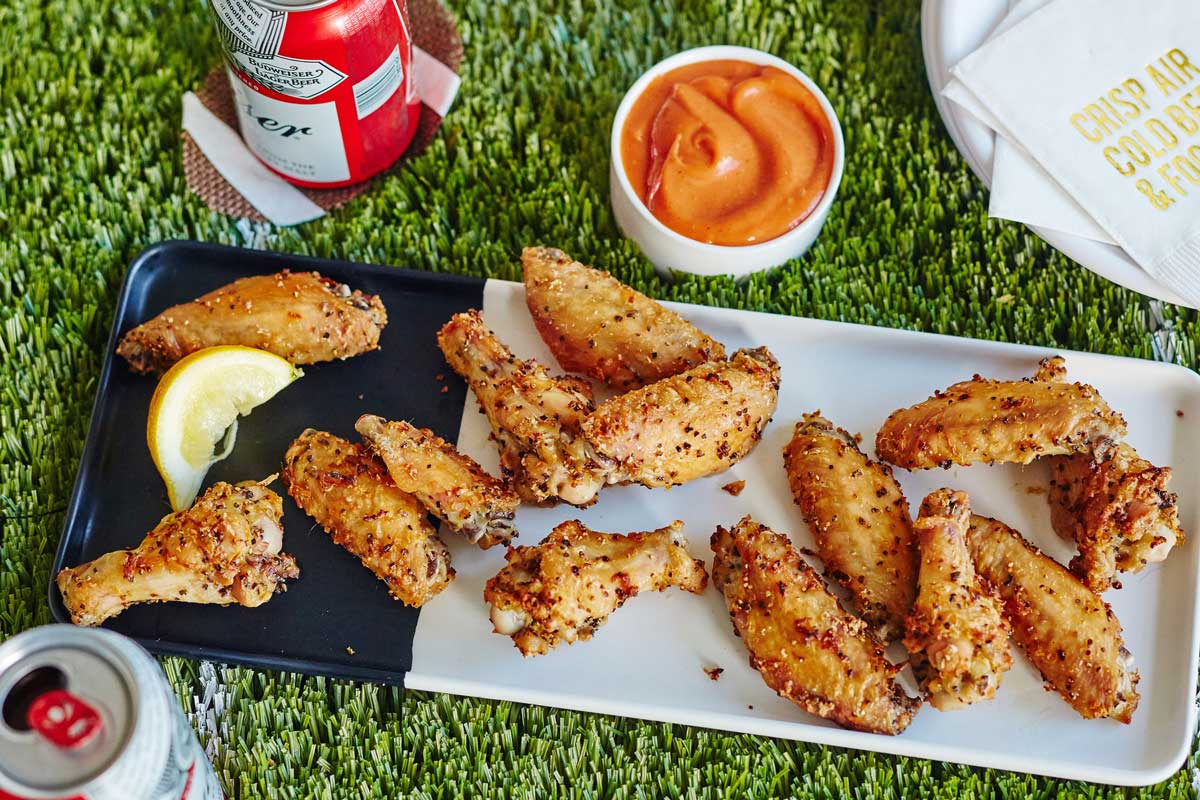 Lemon Pepper Oven-Baked Wings
Serves 4 to 6
3 tablespoons kosher salt
1 tablespoon plus 1 teaspoon coarsely ground black pepper
1 teaspoon garlic powder
Finely grated zest of 2 large lemons
3 pounds chicken wings, separated into 2 pieces and tips discarded (about 24 pieces total)
1. Whisk the salt, pepper, garlic powder and lemon zest together in a large bowl.
2. Toss the wings in the spice blend, using your hands to make sure each wing is thoroughly and evenly coated.
3. Place on a large rimmed baking sheet or in a large casserole dish in a single layer. The wings can be snug and touching each other. Cover with plastic wrap and refrigerate overnight or for up to 24 hours.
4. Arrange two racks to divide the oven into thirds and heat to 325 F. Line two large rimmed baking sheets with parchment paper or foil.
5. Divide the chicken wings between the baking sheets, spacing them evenly and in a single layer. Bake for 30 minutes.
6. Increase the heat to 450 F and roast for 15 minutes. Flip the wings and roast until the skin is very crispy and brown on both sides, about 15 minutes. Serve immediately.
Recipe notes: Leftovers can be stored in an airtight container in the refrigerator for up to four days.
This article is written by Casey Barber from The Kitchn and was legally licensed via the Tribune Content Agency through the NewsCred publisher network. Please direct all licensing questions to legal@newscred.com.